Students
Communication Sciences and Disorders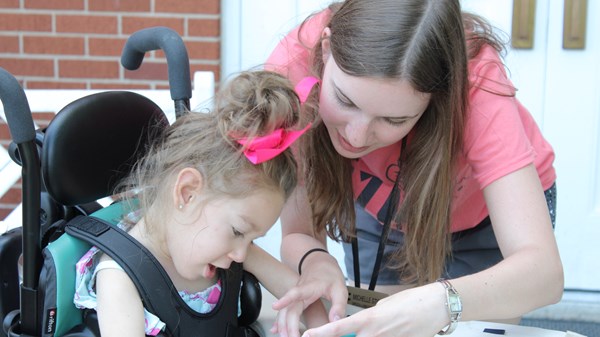 Find their voice, find your future.
Combine science with hands-on experience to get a flexible, rewarding career.
The Division of Communication Sciences and Disorders is actively engaged in research and scholarship, innovative in its teaching and clinical education, and is strongly committed to its advocacy and community outreach efforts. We prepare students for exciting professions which improve the lives of persons or family members who have communication disorders.
Overall we offer:
two minors
a Bachelor of Science program in communication sciences and disorders
a Master of Science program in speech-language pathology
a Doctorate of Audiology program
Who you are.
Pair science and compassionate care to improve someone's life.
We are professionals, such as speech-language pathologists and audiologists, who assess and treat individuals with speech, language or hearing disorders across the lifespan to improve participation in daily activities.
Students enrolled in courses within the CSD Division have the opportunity to participate in research, provision of clinical services, study abroad experiences related to the profession, and student organizations focused on increasing awareness and resources for those with communication disorders.
Facts
100% Praxis pass rate

for speech-language pathology and audiology.

Excellent job growth

speech-language pathology and audiology jobs are projected to grow 25% and 13% respectively.
What you'll do.
Communication and hearing experts can be flexible with their futures.
Practice in settings that match your career goals and how they fit your vision of work-life balance: 
Hospitals
Clinics
Special-treatment centers
Private practice
Schools
Those that hold advanced degrees can expect to make a salary in the $75,000 range and the career growth rate is higher than the national average due to an aging Baby Boomer generation. 
With career flexibility, you can work and live almost anywhere. 
Accreditation
The Master of Science (M.S.) education program in speech-language pathology and the Doctor of Audiology (Au.D.) education program in audiology at West Virginia University is accredited by the Council on Academic Accreditation in Audiology and Speech-Language Pathology of the American Speech-Language-Hearing Association, 2200 Research Boulevard, #310, Rockville, MD 20850, 800-498-2071 or 301-296-5700.