Students for Global Health
Students for International Health started in 2004 under the guidance of Dr. Melanie Fisher, Professor of Internal Medicine. In 2008, the name changed to Students for Global Health.
For students seeking information about traveling in the summer between 1st and 2nd year we can provide some information on programs and organizations outside of WVU that take student volunteers. With several members of the group having done so in the past, we can also provide insight into the experiences and recommendations for future travel.
If you're interested in Students for Global Health at WVU, look for emails announcing events and opportunities. We are also open to any suggestions for future meetings and topics involving global health that you would like presented by this group. Please feel free to contact any of the members listed below.
2020 - 2021 members
President
Lindsey Robinson –lnr0013@mix.wvu.edu
Vice President
Jerome Givi -  jpg0027@mix.wvu.edu
Secretary
Elizabeth Proenza -  ep0054@mix.wvu.edu
Treasurer
Owen Hamilton -  oahamilton@mix.wvu.edu
School of Medicine Representative
William Barclay -  whb0003@mix.wvu.edu
Advisor
Melanie Fisher, MD - mfisher@hsc.wvu.edu
Internal Medicine, Infectious Disease
Helpful Links
Mission Statement
With the firm belief that medical education and practice must extend beyond the confines of our local community, Students for Global Health was created to provide global health educational experiences to WVU students—not only for the enhancement of the WVU medical education, but as a tangible effort to maintain a connection with the health care needs of developing nations and the world at large.
Students for Global Health holds that these experiences and these programs are fundamental to the complete education of a locally and globally engaged health care worker and will provide, whenever possible, financial, administrative and emotional support to students and faculty participating in these programs.
The main purpose of our organization is to lend our leadership, resourcefulness, and compassion to a worldwide cause. We intend to organize and provide global health care experiences for current and future generations of West Virginia University students.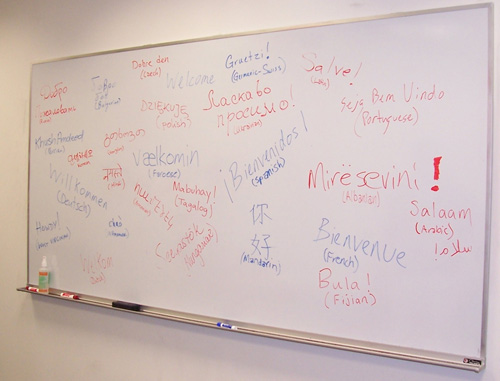 During the Class of 2013 Student Organization Fair, MS1, MS2, and MS3's wrote welcome or a similar greeting on a white board in many languages as they rotated through the different groups.
Students for Global Health By Laws & Goals
By Laws
Students for Global Health is a non-profit, volunteer-run student organization at the West Virginia University School of Medicine dedicated to providing the means by which students may travel to developing countries to participate in a variety of medical education programs.
Any student, faculty, or staff at West Virginia University is eligible for membership.
An elected committee of medical students will serve as liaisons to the faculty advisor, office of student services and administration. The members of Students for Global Health will elect the liaison committee at the last meeting of each year.
Correspondence to Students for Global Health can be carried out through the elected committee or through the assistant to the faculty advisor.
The appointed treasurer of Students for Global Health shall account for all funds available to the organization on a monthly basis and report to the WVU Foundation. Any funds acquired by Students for Global Health either by donation or fundraiser shall be used at the discretion of its elected committee and faculty advisor to aid in collection, sorting, and shipping of supplies, advertising, special events, travel expenses, sponsoring student travel abroad, or any other function deemed relevant to Students for Global Health.
Students for Global Health will meet no more than monthly during the year, from September to April, and more often if deemed necessary by its members.
Students for Global Health will collaborate closely with an advisor who understands the goals of Students for Global Health and is committed to the achievement of the aforementioned goals.
Goals
The goals set by Students for Global Health are as follows:
To assist in the administration and funding of student global health education programs
To promote an awareness of the issues facing adequate healthcare on a global level
To provide an outlet for persons to collaborate and effect change in the world through the use of their leadership, resourcefulness, and compassion
Note: While student organizations are permitted to maintain a website on West Virginia University's server, this website does not constitute official West Virginia University content. This page is developed and maintained by a student organization, and is not approved or endorsed by, affiliated with, or supported by the University. The University does not screen or control the content on this page and thus does not guarantee the accuracy, integrity, or quality of it. The views expressed here are strictly those of the page authors. Questions or comments on the contents of this page should be directed to the applicable student organization.