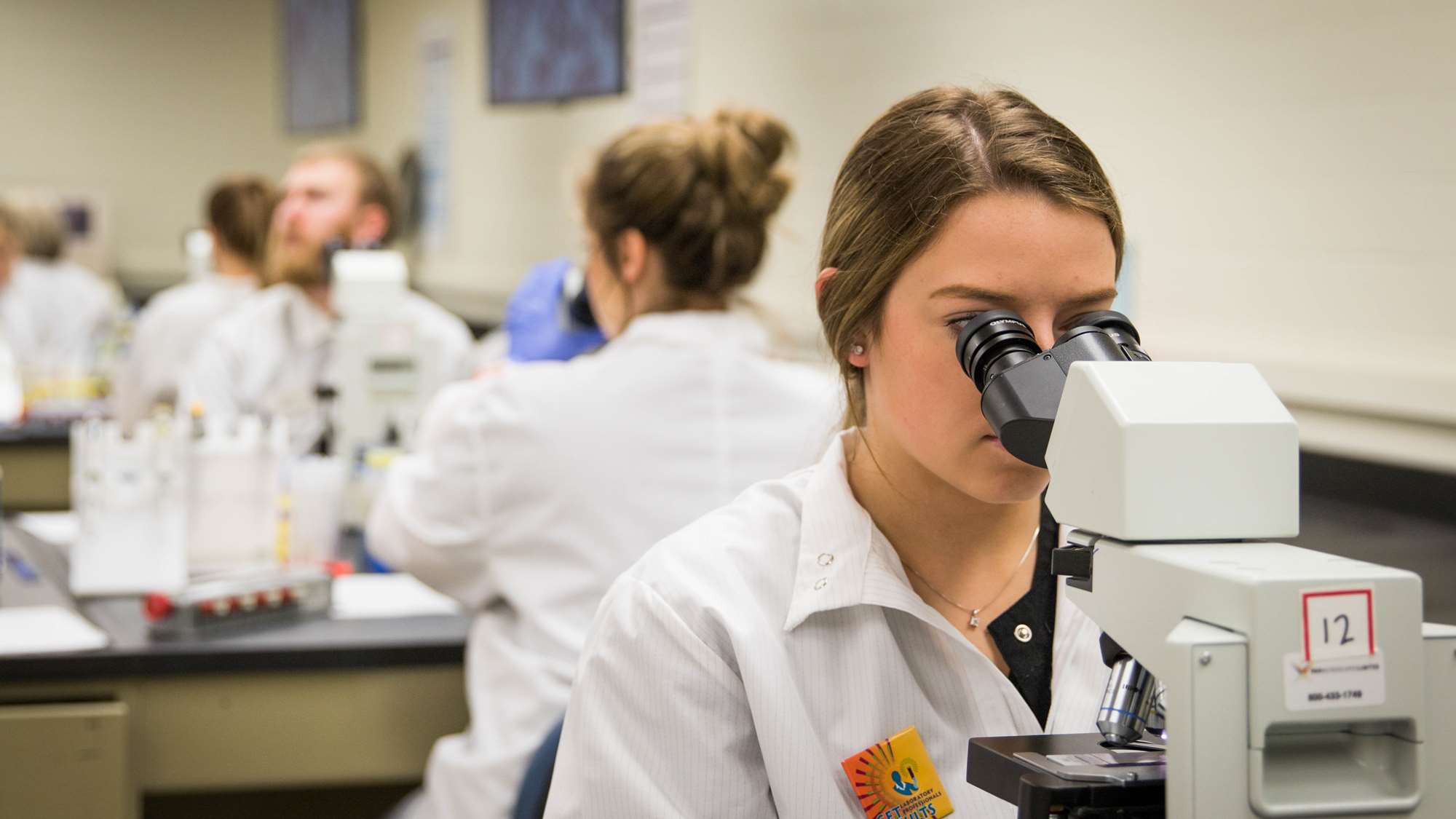 Medical Laboratory Science
Maybe you want to work in a lab, but you also want to help patients. You can do both with a degree in Medical Laboratory Science. One hundred percent of our graduates find placement in careers or graduate school, and many can be found working in hospitals, clinics and doctor's offices.
Medical Laboratory Science
The WVU Bachelor of Science in Medical Laboratory Science is a four-year program which provides an intensive combination of lectures, laboratories and clinical experience. The first two years can be completed at the WVU main campus, one of the WVU regional campuses or any regionally accredited college or university. Courses taken in the first two years include general biology with lab (Eight hours), inorganic chemistry with lab (Eight hours), organic chemistry with lab (CHEM 231 or Organic Chemistry I and II), college algebra or higher, statistics, and the general education requirements. For specific requirements please go to Application Process.

The second two years are based at the WVU Robert C. Byrd Health Sciences Center and include lectures and student laboratory experience and clinical experience at one of the program's affiliated laboratories. The affiliated laboratories are located in Morgantown, Charleston, Clarksburg and the WVU Eastern Division located in West Virginia, and Pittsburgh, Latrobe and Greensburg located in Pennsylvania. During the clinical experience, students will apply their knowledge and skills by using state-of-the-art  instrumentation to perform laboratory procedures under the supervision of a clinical instructor.
If a student is accepted into the MLS professional program, a clinical affiliate placement is guaranteed, but the clinical affiliate assignment to a specific clinical affiliate site location is not guaranteed. Students who are assigned to off-campus sites will relocate to those sites for the final semester of the senior year. Students are responsible for their own housing and transportation.
There are two Tracks for the Bachelor of Science degree in the Medical Laboratory Science.
Clinical Laboratory Scientists analyze, develop and perform medical laboratory tests and evaluate results on blood and bodily fluids.
Histotechnologists are responsible for routine and specialized procedures on tissue and autopsy specimens for diagnosis.