James W. Simpkins
,
PhD
Director, Center for Basic & Translational Stroke Research; Professor, Department of Neuroscience
Contact Information
Address

PO Box 9303
108 Biomedical Road
BMRC 105
Morgantown, WV 26506
Affiliations
Department of Neuroscience
Department of Physiology & Pharmacology
Rockefeller Neuroscience Institute
Graduate Training
PhD, Physiology, Michigan State University
MS, Biology, University of Toledo
Research Interests
We assess the role of mitochondria in stroke propensity and stroke damage. These studies are aims at identifying the mechanism by which mitochondrial dysfunction contributes to stroke damage and the possibility of targeting drugs to these mitochondrial defects as a therapy for prevention/acute treatment of stroke.
Assessment of vaious classes of drugs on neuroprotection in stroke and AD. We have a drug discovery program that attempts to discover novel compounds with efficacy in stroke and AD. One such class of compounds we have termed non-feminizing estrogens.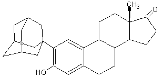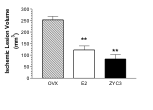 Structure and stroke protective effects of a non-feminizing estrogen (ZYC3)
We assess the effects of beta amyloid on mitochondrial function to determine how this neurotoxic peptide causes loss of synapses and neurons in the brain.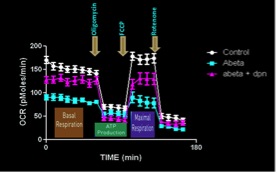 Short-term treatment with beta amyloid (Abeta) causes a profound decline in mitochondrial function in promary neuronal cultures.
Recent Publications
[2021]
[2020]
[2019]
​[2018]
[2017]
Shao-Hua Yang , Wenjun Li , Nathalie Sumien , Michael Forster , James W. Simpkins, Ran Liu. Alternative mitochondrial electron transfer for the treatment of neurodegenerative diseases and cancers: Methylene blue connects the dots, Progress in Neurobiology 157: 273-291, 2017.
E.B. Engler-Chiurazzi , C.M. Brown, J.M. Povroznik , J.W. Simpkins, Estrogens as neuroprotectants: Estrogenic actions in the context of cognitive aging and brain injury, Progress in Neurobiology 157: 188-211, 2017.
Elizabeth B. Engler-Chiurazzi, Douglas F. Covey, and James W. Simpkins, A Novel Mechanism of Non-feminizing Estrogens in Neuroprotection, Experimental Gerontology, 94:99-102.
Shinichi Asano, Grant O'Connell, Kent C. Lemaster, Evan R. DeVallance, Kayla W. Branyan, James W. Simpkins, Jefferson C. Frisbee, Taura L. Barr, Paul D. Chantler, Leukocytes Mediate Stroke Serum-Induced Vascular Dysfunction, Exp Physiol. 2017 Oct 1;102(10):1321-1331. [Epub ahead of print] PMID: 28737253
Gao X, Zheng P, Kasani S, Wu S, Yang F, Lewis S, Nayeem S, Engler-Chiurazzi EB, Wigginton JG, Simpkins JW, Wu N. Paper-Based Surface-Enhanced Raman Scattering Lateral Flow Strip for Detection of Neuron-Specific Enolase in Blood Plasma. Anal Chem. 2017 Sep 19;89(18):10104-10110. [Epub ahead of print] PMID: 28817769
Charles B. Breckenridge, Chad D. Foradori, Pragati Sawhney Coder, James W. Simpkins, Robert L. Sielken, Jr., Robert J. Handa, Changes in sensitivity to the effects of atrazine on the LH surge in female SD rats after repeated daily doses: Correlation with liver enzyme expression. Birth Defects Research, In Press, 2017.
Jinzi Wu; Rongron Li; Wenjun Li; Ming Ren; Nopporn Thangthaeng; Nathalie Sumien; Ran Liu; Shaohua Yang; James W Simpkins; Michael J Forster; Liang-Jun Yan, Administration of 5-methoxyindole-2-carboxylic acid that potentially targets mitochondrial dihydrolipoamide dehydrogenase confers cerebral preconditioning against ischemic stroke injury, Free Radical Biology and Medicine, In press, October, 2017.
[2016]
Russell, AE, DN Doll, SN Sarkar and JW Simpkins, TNF-α and Beyond: Rapid Mitochondrial dysfunction mediates TNF-α-induced neurotoxicity, Journal of Clinical and Cellular Immunology, 2016, 7:6 DOI: 10.4172/2155-9899.1000467
S. Sarkar, S. Jun, S. Rellick, D.D. Quintana, J.Z. Cavendish, and J. W. Simpkins, Expression of MicroRNA-34a in Alzheimer's Disease Brain Targets Genes Linked to Synaptic Plasticity, Energy Metabolism, and Resting State Network Activity, Brain Res. 1646: 139-151, 2016 PMID: 27235866
Randy Strong, Richard A. Miller, Adam Antebi, Clinton M. Astle, Molly Bogue, Martin Denzel, Elizabeth Fernandez, Kevin Flurkey, Karyn L. Hamilton, Dudley W. Lamming, Martin A. Javors, João Pedro de Magalhães, Joe M. McCord, Benjamin F. Miller, Michael Müller, James F. Nelson, Juliet Ndukum, G. Ed. Rainger, Arlan Richardson, David M. Sabatini, Adam Salmon, James W. Simpkins, Nancy L. Nadon, David E. Harrison, Longer lifespan in male mice treated with a non-feminizing steroid, an antioxidant, an α-glucosidase inhibitor or a Nrf2-inducer, Aging Cell. 2016 Jun 16. doi: 10.1111/acel.12496. [Epub ahead of print] PMID: 27312235
Sarkar, S, S Jun, S, Rellick, S, and Simpkins, JW, Increased expression of miR-34a in late-onset Alzheimer's disease (LOAD) brain mechanistically links synaptic plasticity and energy metabolism dysfunction, Brain Res. 1646: 139-151, 2016 PMID: 27235866
Bukeirat M, Sarkar SN, Hu H, Quintana DD, Simpkins JW, Ren X, MiR-34a regulates blood-brain barrier permeability and mitochondrial function by targeting cytochrome c. J Cereb Blood Flow Metab. 2016 Feb; 36(2):387-92.
Hu, H., Doll, DA, Sun, J, Lewis, SE, Wimsatt, JH, Kessler, MJ, Simpkins, JW and Ren, X., Post-stroke hypothermia predicts stroke severity and is correlated with mitochondrial impairment in cerebrovascular endothelial cells, Aging and Disease 2016 Jan 2;7(1):14-27
Blake S Moses, William L Slone, Rebecca Evans, Debbie Piktel, Peggi M Angel , Callee Walsh, Pamela Cantrell , Stephanie Rellick, Karen Martin, James W. Simpkins, Laura F Gibson , Bone marrow microenvironment modulation of acute lymphoblastic leukemia phenotype, Exp Hematol. 2016 Jan;44(1):50-59.e2. doi: 10.1016/j.exphem.2015.09.003.
Ashley B. Petrone, Grant C. O'Connell, Michael D. Regier, Paul D. Chantler, James W. Simpkins, and Taura L. Barr, The Role of Arginase 1 in Post-Stroke Immunosuppression and Ischemic Stroke Severity, Transl Stroke Res. 2016 Apr;7(2):103-10.
Engler-Chiurazzi, EB, Brown, CM, Povroznik, J, and Simpkins, JW, Estrogens as Neuroprotectants: Estrogenic Actions in the Context of Cognitive Aging and Brain Injury, Prog Neurobiol. 2016 Feb 15. pii: S0301-0082(15)30063-0. doi: 10.1016/j.pneurobio.2015.12.008. [Epub ahead of print] Review. PMID: 26891883 (IF 9.992).
Jiahong Sun, Heng Hu, Xuefang Ren, James W. Simpkins, Tert-butylhydroquinone Compromises Survival in Murine Experimental Stroke, Neurotoxicol Teratol. 2016 Jan 28;54:15-21. PMID:26827673
Engler-Chiurazzi, EB, Stapleton, PA, Stalnaker, JJ, Sarkar, SN, Jun, S, Quintana, DD, Ren, X, Hu, H, Nurkiewicz, TR, McBride, C, Yi, J, Simpkins, JW, The Impact of Prenatal Nanomaterial Exposure on Male Adult Sprague Dawley Rat Behavior and Cognition, J Toxicol Environ Health A. 2016 Apr 19:1-6. [Epub ahead of print] PMID: 27092594
Jiahong Sun Xuefang Ren, Wen Qi, Dan Yuan & James W. Simpkins, Geissoschizine methyl ether, an alkaloid from Yokukansan, protects oxidative stress-mediated cytotoxicity in neurons through a 'neuronal Warburg effect, J Ethnopharmacology 2016 Apr 22. pii: S0378-8741(16)30235-5. doi: 10.1016/j.jep.2016.04.034. [Epub ahead of print] PMID: 27114061
Rellick, S. L., Hu, H., Simpkins, J. W., Ren, X. Evaluation of Bioenergetic Function in Cerebral Vascular Endothelial Cells. J. Vis. Exp.19:(117), e54847, doi:10.3791/54847 (2016). PMID: 27911398
Ren, X and J. W. Simpkins, Updates of knowledge in stroke, Dana Foundation, Progress in Brain Research, June, 2016.
Mingxing Qian, Elizabeth B. Engler-Chiurazzi, Sara E. Lewis, Nigam P. Rath, James W. Simpkins, and Douglas F. Covey, Structure–activity studies of non-steroid analogues structurally-related to neuroprotective estrogens, Organic and Bio Molecular Chemistry, 2016 Oct 18;14(41):9790-9805. PMID: 27714297