Free dirt therapy available at WVU's Health Sciences Center
Volunteer to work in the vegetable garden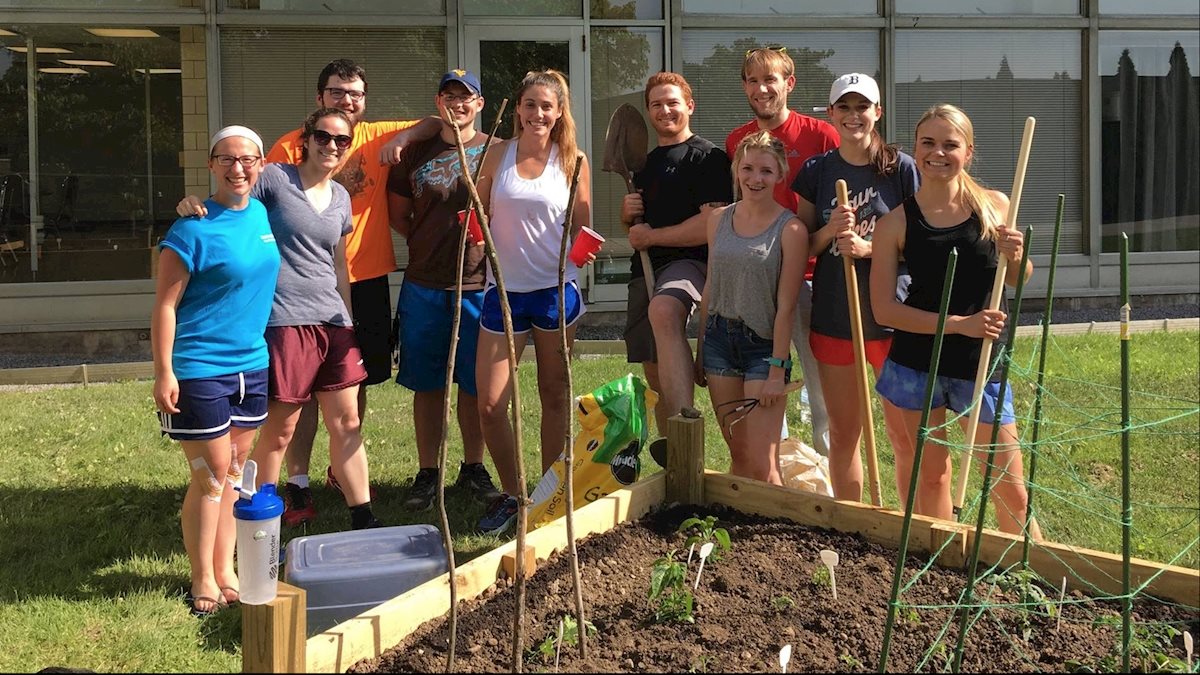 "Everywhere I live, I build a garden box, and each time I learn a little more about gardening, plants and nutrition," said head gardener and first-year West Virginia University medical student, Quintin Brubaker.
His enthusiasm for community and zest for fresh vegetables is part of a movement at the Health Sciences Center as its long-standing café is undergoing extensive renovations and programs like WVU's MedChefs and WVU Medicine's Finding Wellness start to take hold.
Several medical students gathered on the north side of the Health Sciences Center in late May to fill three wood crafted garden boxes, compliments of WVU Facilities Management, with plants such as tomatoes, arugula, Swiss chard, lettuce, peas and cucumbers. The hope is to get the idea of a communal garden implanted into the culture of the Health Sciences community and grow a larger initiative that could eventually help supply the cafeteria and food court with some produce and offer educational opportunities around healthy food and gardening.
Brubaker realized that other medical students shared his interest in gardening and nutrition after having
numerous conversations with faculty and students about making nutrition a bigger aspect of medical education. To expand awareness, he has participated in student program meetings in all five health sciences schools in an effort to swap ideas and garner interest in working on the vegetable garden.
"I hoped that if I could get them (HSC Facilities) to let us make a vegetable garden, where I could do what I enjoy and find other students that would enjoy it also, then we could develop an education aspect around it," said Brubaker. "I really want the garden to bring people together and help encourage other ideas and make connections with things such as the farmer's market and the cafeteria."
Brubaker says that anyone can learn how to grow vegetables and garden with a little internet research and help from friends with a green thumb. "I'm not even good at growing things, but some of these greens are so easy," he said. "It's like tasty free vitamins all summer long!"
So where will all of the garden's bounty go once it starts to produce? Brubaker says that anyone is free to to pick a ripe tomato or pull some greens for a salad as they walk by on their way to lunch. He hopes they'll respond in kind with helping plant and tend to the garden during the season.
The entire University community is free to volunteer to work in the garden. If you're interested, join their WVU HSC Garden Facebook page for updates or contact Quintin Brubaker at dqbrubaker@mix.wvu.edu.
For news and information on the School of Medicine, follow us on twitter @WVUMedSchool, like us on Facebook or visit medicine.hsc.wvu.edu.