WVU names director of Institute for Critical Care and Trauma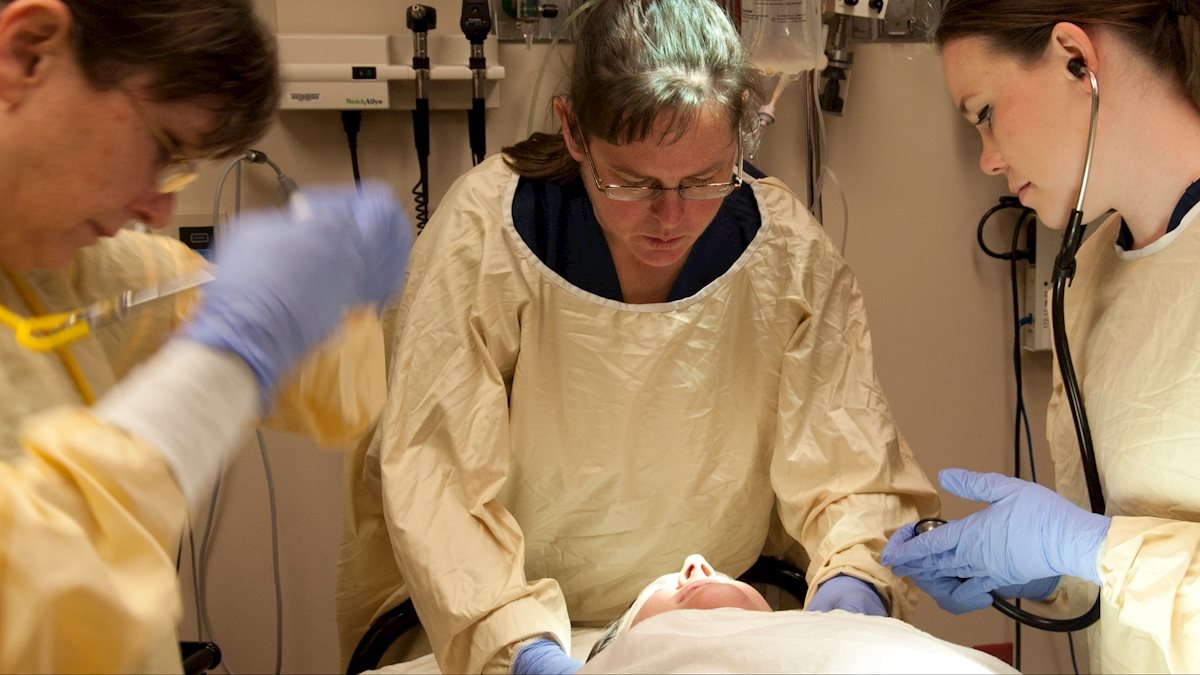 Alison Wilson, M.D., leads a team that cares for more than 3,000 trauma patients each year. She treats patients who arrive directly from the scene of an accident and those who suffer from catastrophic life-threatening illnesses, such as systemic infections (sepsis), severe drug overdoses, respiratory failure, kidney failure and multi-system organ failure.
Dr. Wilson, vice chair and professor in the West Virginia University School of Medicine Department of Surgery, has been named the director of West Virginia University's Institute for Critical Care and Trauma.
"This is an incredible opportunity to expand our clinical programs in surgical, medical, neurologic and cardiac critical care and initiate advanced training programs in each of these areas to provide the citizens of West Virginia improved access to these specialists," Dr. Wilson said. "We will also work to expand systems that are in place, such as with trauma care, and will initiate the development of additional systems for other critical care specialties to help streamline access and delivery to patients who are the sickest of the sick."
West Virginia has some of the highest rates of motor vehicle and ATV-related deaths, fatal occupational injuries, and the highest rate of accidental poisoning deaths, which include overdoses.
The Institute for Critical Care and Trauma aims to reverse those trends and is being developed to promote research, education, outreach, injury prevention, and improved patient care, in both pre-hospital and hospital settings, in the areas of trauma, emergency care, and care of the critically injured or ill patient. The Institute will also provide expertise in the design and implementation of systems of care for the "sickest of the sick" patients.
"The very nature of trauma care necessitates teamwork, essential where minutes count and the coordination of a number of specialists and nurses determine survival," Clay Marsh, M.D., WVU vice president and executive dean for health sciences, said. "Alison is the chief of the team that treats thousands of injured patients from all over West Virginia and parts of Pennsylvania, Ohio and Maryland. Sheteaches students who will be our future physicians. She is recognized as a leader in trauma surgery and critical care in the United States, and her reputation extends internationally."
Wilson is also the director of the Jon Michael Moore Trauma Center and Surgical Intensive Care Unit at WVU Medicine Ruby Memorial Hospital. She leads a multi-disciplinary team that cares for patients who suffer from injury or catastrophic critical illness.
She is the Skewes Family Chair for Trauma Surgery in the WVU School of Medicine and has developed a training curriculum for both trauma and surgical critical care.
Wilson received her medical training and completed a surgical residency and a critical care fellowship at Baylor College of Medicine in Houston. She is a member and holds leadership positions in several surgical and trauma professional societies and serves on the Board of Directors of the Michael E. DeBakey International Surgical Society.
For news and information on the WVU School of Medicine, follow us on twitter@WVUMedSchool, like us on Facebook or visit medicine.hsc.wvu.edu.
-WVU-
- See more at: http://wvutoday.wvu.edu/n/2015/12/11/wvu-names-director-of-institute-for-critical-care-and-trauma#sthash.oMPTfi3G.dpuf