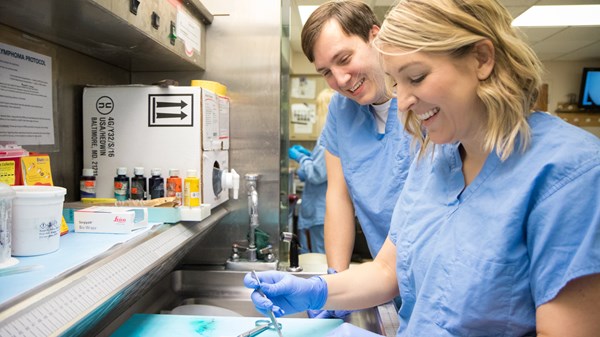 The pathologists' assistant program is an intensive 24-month curriculum culminating in a master's degree in health science. Each class begins in January and consists of 16 students.
The first year is predominantly didactic with some hands on experience in the surgical pathology gross room and autopsy suite. The second year consists of clinical rotations in various medical settings to provide the student with a wide range of experience prior to employment. Upon graduation students are eligible to take the ASCP board certification exam.
Who you are
Pathologists' assistants are responsible for the processing of surgical pathology specimens from receipt to dissection, and description to submission of tissue to histology. 
In autopsy practice, the pathologists' assistant is involved in reviewing the medical records of the decedent, evisceration, dissection and selection of tissue for submission to histology. 
The pathologists' assistant may also formulate preliminary anatomic diagnoses and autopsy reports under the direction of a pathologist. Pathologists' assistants are involved in lab management, teaching at the university level, training of residents and medical students, or research.
Facts
100%

ASCP board certification pass rate.

100%

job placement rate.
What you'll do
Careers for Pathologists' Assistants are one of the fastest growing specialties in medicine. Graduates are employed all over the U.S. in many different types of settings including:
Academic and community hospitals
Private practices
Morgues
Research and tissue banking facilities
Reference laboratories
Accreditation
The West Virginia University Pathologists' Assistant Program is accredited through October 31, 2031 by the National Accrediting Agency for Clinical Laboratory Sciences (NAACLS), 5600 River Road, Suite 720, Rosemont, IL 60018, (773) 714-8880, www.naacls.org. NAACLS is the premier international agency for accreditation and approval of education programs in the clinical laboratory sciences and related health care professions. (Adapted from www.naacls.org.)