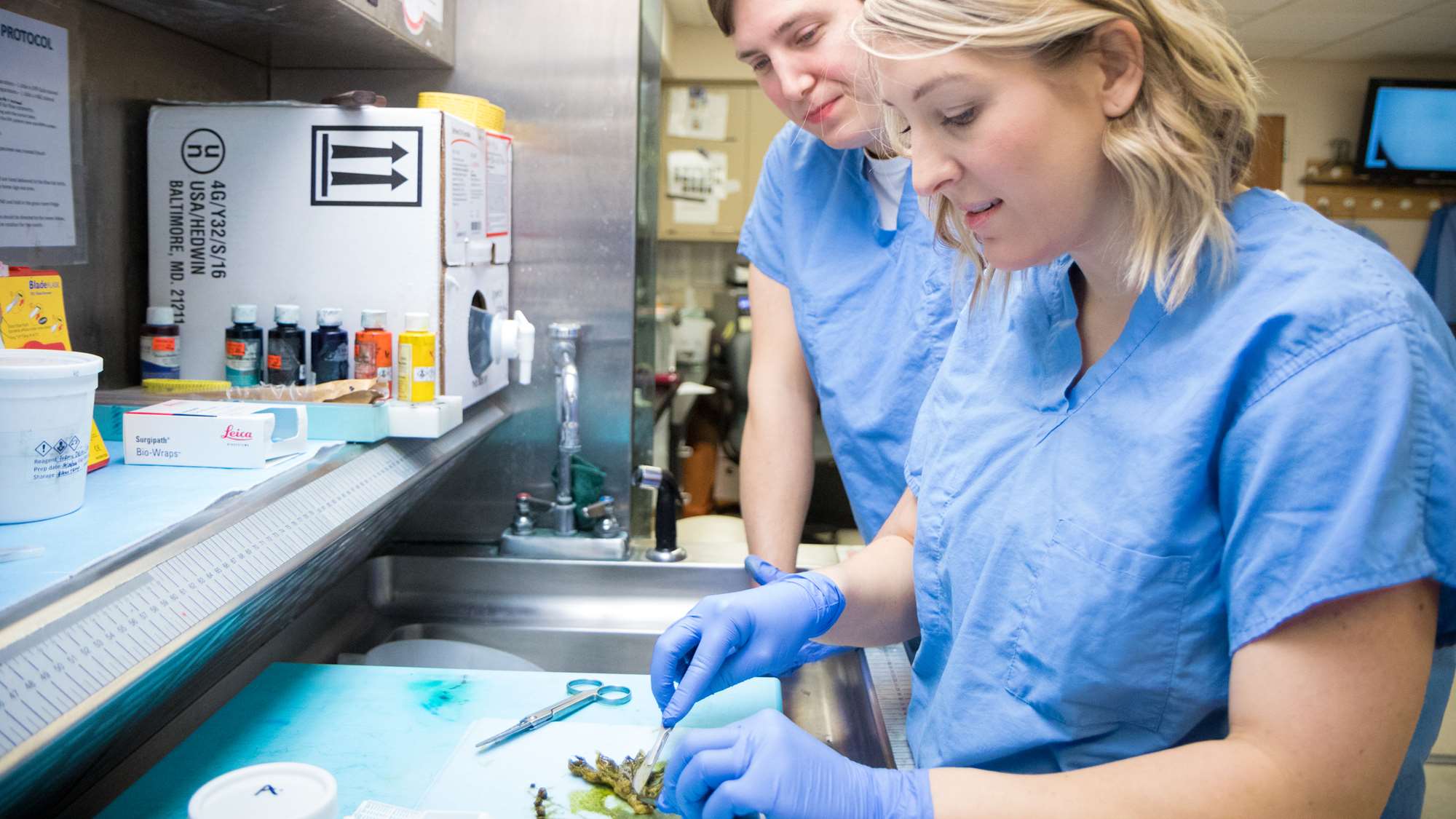 Pathologists' Assistant Program
Pathologists' assistants dissect and examine organs and tissues for disease, perform autopsies, and prepare tissue for intraoperative diagnosis.
Pathologists' Assistant Program
Notice: The application period is currently open until April 30, 2021 for the class beginning January 2022.

The faculty and staff of the Pathologists' Assistant Program have access to their voicemail and email and will continue to be able to assist you even when they are working remotely.


Introduction
The Pathologists' Assistant program at West Virginia University's School of Medicine was approved and founded in 2007, with the first class beginning in January, 2008. Each class has up to 16 students.  The program is an intensive 24-month, 72 credit curriculum, culminating in a Master's degree in Health Science (MHS). The first year is an intense didactic schedule, with some hands-on experience in the surgical pathology gross room and autopsy suite. The second year consists of clinical rotations in various medical settings to provide the student with a wide-range of experience prior to employment. A bachelor's degree is required.  Students typically come from science-related backgrounds, including medical laboratory science, histotechnology, pre-professional biology, and forensic science.
Our Graduates
Graduates of the program are eligible to sit for the national board of certification exam administered by the American Society for Clinical Pathology (ASCP).  Upon passing the ASCP exam, graduates may use the designation "PA (ASCP)."  Graduates are eligible to become fellows of the governing agency for pathologists' assistants, the American Association of Pathologists' Assistants (AAPA).  Please visit their website for more information on the profession www.pathassist.org. Our graduates obtain jobs all across the U.S.
Program Outcomes
ASCP Board Certification pass rate: 100%
Job placement rate: 100%
Graduation rate of individuals beginning the final half of the program: 100%