West Virginia Healthy Start/HAPI Project
Helping Appalachian Parents and Infants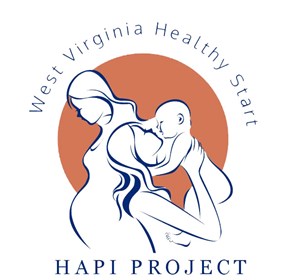 Brief Project Overview:
The HAPI Project is funded by Health Resources and Services Administration (HRSA), Maternal and Child Health Bureau, Division of Healthy Start and Perinatal Services and is integrated with Right From The Start (RFTS). HAPI is administered by the OBGYN Department at the West Virginia University School of Medicine and the West Virginia University Research Corporation. HAPI works with local agencies that employ DCCs (Designated Care Coordinators; licensed professional social workers and registered nurses), in which provide education, resources and services to clients.
The goal of the HAPI Project services is to reduce infant mortality. We hope to accomplish this by reducing the incidence of preterm labor and low birth weight baby's, and by improving the overall health of women and their families. Prenatally, HAPI is designed to enhance the existing Right From The Start services by working with ALL current RFTS clients. For the post-partum services, women must be screened for eligibility so that we may serve the most at-risk population.