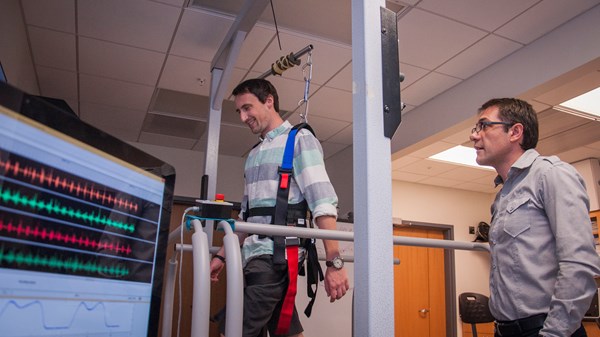 Where foundational training and practical application flourish.
Exercise physiologists are trained on integrative, preventive medicine and health care practices to evaluate people in cardiovascular fitness, muscular strength and endurance, flexibility, neuromuscular integration, and body composition.
Who You Are
Specially trained in human movement and physiology, exercise physiologists can work in clinical or performance settings and provide personalized health assessments, performance testing, and exercise prescription to everyone from athletes to clinical populations. They work to prevent or delay the onset of chronic disease in healthy people or to provide therapeutic or functional benefits to those with known disease. They also develop exercise programs that increase people's capacity to work and enjoy life.
Exercise physiologists are a critical part of a healthcare team dedicated to improving quality of life in patients and clients by prescribing appropriate, personalized exercise programs as preventive medicine and treatment. They increase long-term physical and social health and independence through individualized education, behavioral change, and prevention strategies.
As part of the WVU Division of Exercise Physiology, you'll learn from experts in their fields and engage in faculty-led, hands-on interactive learning in human cadaver and performance labs - and you'll graduate ready for immediate employment, postgraduate training, or both.
Our Curriculum
Our unique, accredited undergraduate and master's curriculum prepares students for further study or immediate employment.
You can earn an area of emphasis, such as aquatic therapy, dance science, or health professions. You can also enhance your learning experience and earn credit by assisting in research with animals or humans, working with clinical patients in the Human Performance Laboratory, or through global engagement and study abroad.
What You'll Do
Whether your end goal is immediate employment or continued education, exercise physiology will give you opportunities to fine-tune your skills in areas such as communication, patient care, and analytical and critical thinking.
Most exercise physiology alums go on to pursue postgraduate study in medicine, dentistry, physician assistant studies, athletic training, physical therapy, occupational therapy, and more.
With the integration of preventive medicine into healthcare, employment opportunities are expanding and growing at a rate faster than the national average for educated exercise physiologists - and our graduates find employment almost anywhere in the world. You will find our alumni working in:
Hospitals
Rehabilitation centers
Outpatient clinics
Corporate, community, and commercial wellness and fitness centers
Nursing homes
Senior citizens centers
Research laboratories
Colleges and universities
Connect with Us
Stay connected with what's happening at the School of Medicine.