EyeSi surgery simulator offers unique training opportunity for WVU residents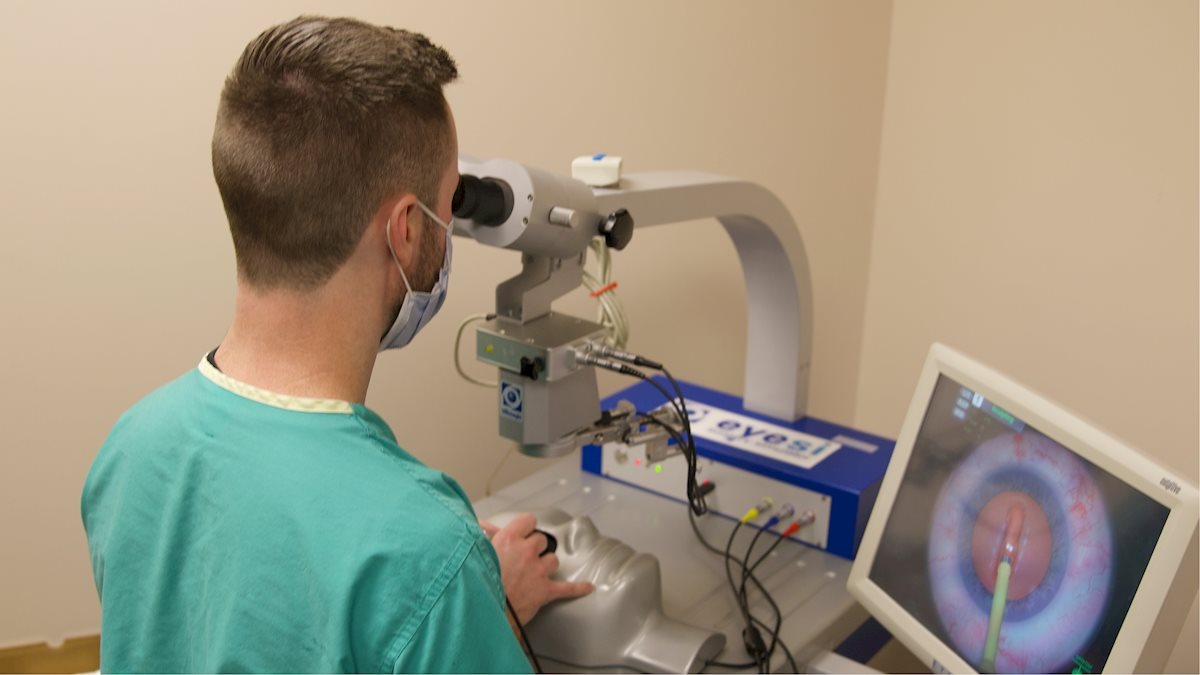 Cataract surgery requires a delicate hand and years of practice to perfect, but a simulated surgical experience offered to residents at the West Virginia University Department of Ophthalmology and Visual Sciences is helping the next generation of surgeons refine these skills before taking their patients to the operating room.
The WVU Eye Institute was one of the first sites in the country to offer an EyeSi surgery simulator as part of its residency training experience. In the years that followed, the computer simulator has been helping residents such as Drew Bean, M.D, perfect their surgery techniques.
Dr. Bean, who is currently a PGY-3 resident, said the on-site availability of advanced equipment such as the EyeSi simulator was a large factor in his decision to come to WVU for his training.
Bean said one of the key attributes an ophthalmologist needs to possess is dexterity, which can only be attained through repeated practice. He said the simulator allows ophthalmologists in training to get this necessary practice, all from the safety of the computer lab.
"The EyeSi has been a great learning tool for me," Bean said. "Early on in my residency, it enabled me to work on controlling my hand movements and limit my tremors. As residents, that practice helps build confidence in our surgical skills," Bean said.
The EyeSi simulator has benefited more than 40 residents since arriving in 2007. The department is raising funds to purchase a new, next-generation EyeSi simulator so it can continue to offer state-of-the-art training equipment to its residents.
According to Residency Program Director Geoffrey Bradford, M.D., the department is in need of a new machine that incorporates the advancements in technology that have been made over the past 14 years.
"The EyeSi simulator has been an incredible teaching tool for the department, and dozens of practicing ophthalmologists who trained with us got their start on that machine," said Dr. Bradford. "Keeping up with the latest advances is a hallmark of our residency training program. A new simulator will provide the standard of training excellence that our residents expect when they come to WVU."
To learn more about visual science residency programs or how you can contribute to the simulator, visit the WVU Foundation website.