From volunteer to employee, Seth Huggins continues to spread WVU values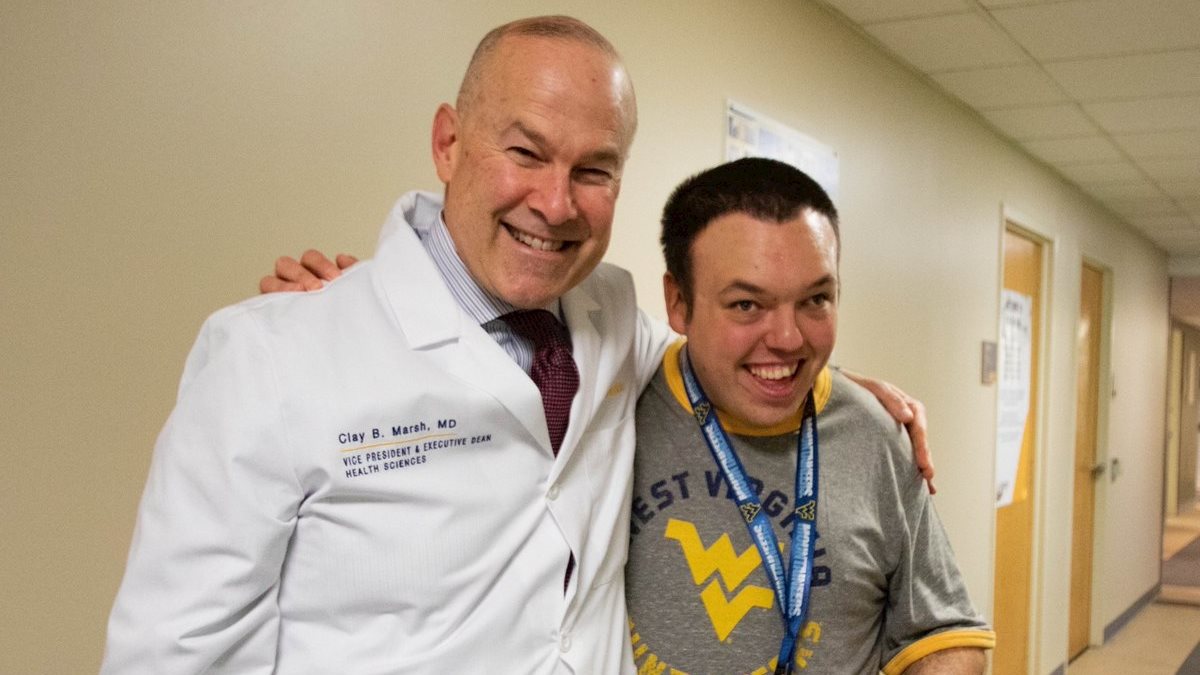 Seth Huggins started volunteering at the West Virginia University Rack Food Pantry in 2017, and has been a positive inspiration to his peers ever since, making the pantry a welcoming and judgement free place for those who use it.
Huggins' joy, energy and love for the WVU community is evident as soon as one meets him. It's easy to see why he was awarded a WVU Values Coin this past May.
WVU Values Coins are granted to faculty and staff who go above and beyond to make the University community a better place. Huggins certainly does his best.
"Seth is someone who genuinely embodies the Mountaineer spirit," said Clay Marsh, M.D., vice president and executive dean of WVU health sciences. "He has purpose and a positive mindset that looks to improve the lives of others. It's great to have him in the Health Sciences Center family."
Dr. Marsh presented Huggins with the WVU values coin to celebrate his employment and service as a volunteer.
Huggins started volunteering in 2017, and was named volunteer of the month in April 2018. However, a big change in his life occurred in May when he was awarded a full-time employment position at the HSC.
"Hopefully I'll be the employee of the month," Huggins said. "I'm very excited to work at the pantry."
Huggins continues to improve the lives of those around him, providing relief to people who need it most. To him, embodying the Mountaineer spirit mean being nice to everyone, and helping people when they need it.
"It touches my heart and is wonderful that I get to help people here at the Rack," Huggins said.
The Rack II Food Pantry is located in room 308 on the ground floor of the health sciences center. Additional information can be obtained by visiting The Rack's Facebook page, The Rack: WVU Campus Food Bank or Twitter feed, @WVU_TheRack.
If you have questions or special requests, please contact The Rack II at 304-581-1689. Those interested in volunteering at The Rack II should contact Babette Taylor at 304-293-2323.