GHHS inductees announced for Spring 2022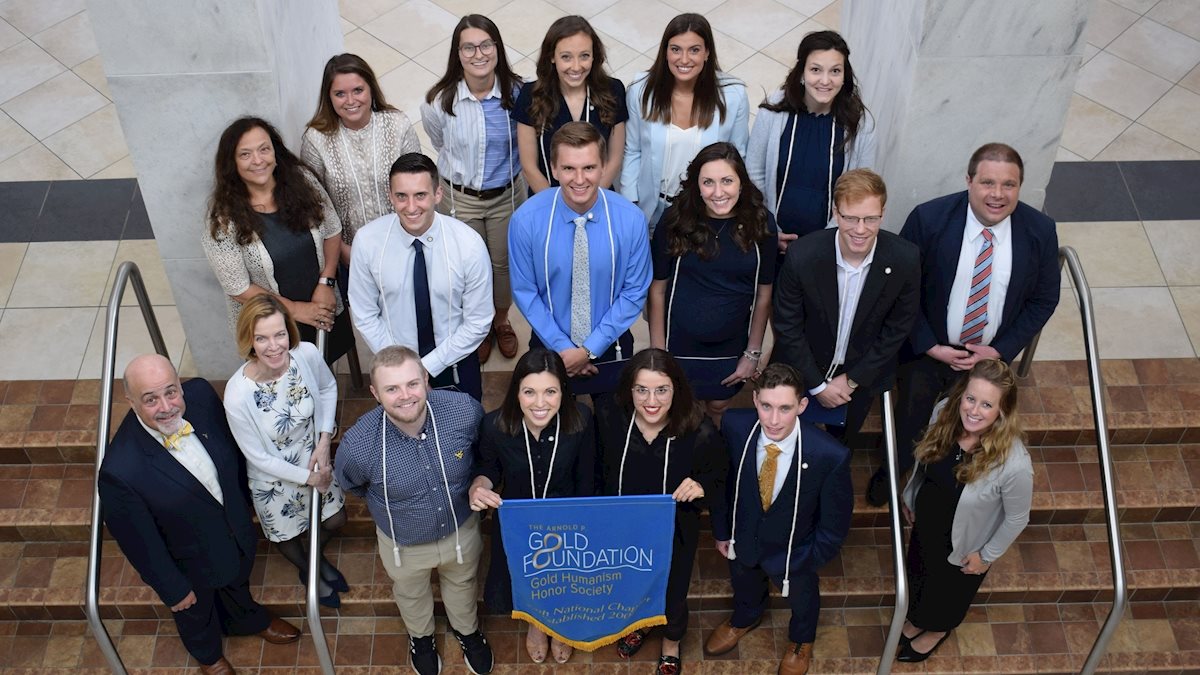 The West Virginia University School of Medicine announced the most recent inductees into the Gold Humanism Honor Society in an in-person ceremony that took place on Saturday, June 11.
GHHS is a national honor society that honors senior medical students, residents, role-model physician teachers and other exemplars recognized for demonstrated excellence in clinical care, leadership, compassion and dedication to service. It was founded by the Arnold P. Gold Foundation for Humanism in Medicine, which champions compassionate, collaborative and scientifically excellent care.
WVU's chapter was established in 2008 by six faculty members with histories of exceptional service to the school and West Virginia as a whole – a mission they continue to emphasize with each new cohort.
"Each of these students, residents, fellows and faculty are inspirational models of competence, compassion and service, not only for their peers, but also for the future generations of doctors who will learn and train here," said Norman Ferrari, M.D., chief academic officer for medical education. "We believe these values are central to our mission as physicians in caring for our patients, our communities and each other."
Inductees from the M.D. Class of 2023 include: Evan Abbey, Mia Antinone, Mary Catherine Bandak, William Barclay, Jarred Boone, Megan Cavrak, Elizabeth Dice, Aryana Jones, Savannah Lusk, Vincenzo Pizzuti, Kathryn Quillen, Abigail Rosiellio, Luke Stover and William Woodall.
Resident and fellow inductees include Madonna Gribble, D.O., Family Medicine in Charleston; Jennifer Silk, D.O., Obstetrics, Gynecology and Reproductive Sciences; and Lauren Stawovy, M.D., Pulmonary and Critical Care.
Faculty inductees include Erica Shaver, M.D., vice chair of education and residency program director in the Department of Emergency Medicine.
The organization is active throughout the year, with events that encourage those physicians who came before them and those that will come after them. Examples include spearheading Thank a Resident Day and giving feedback to first-year medical students on connecting to patients through better communication skills to take better medical histories during examinations.
GHHS also organizes GHHS Week, a series of lunch lectures with speakers who offer unique perspectives on improving patient care through a humanistic approach.