MEET THE GRADS: Former army ranger's accident helps him discover a career in physical therapy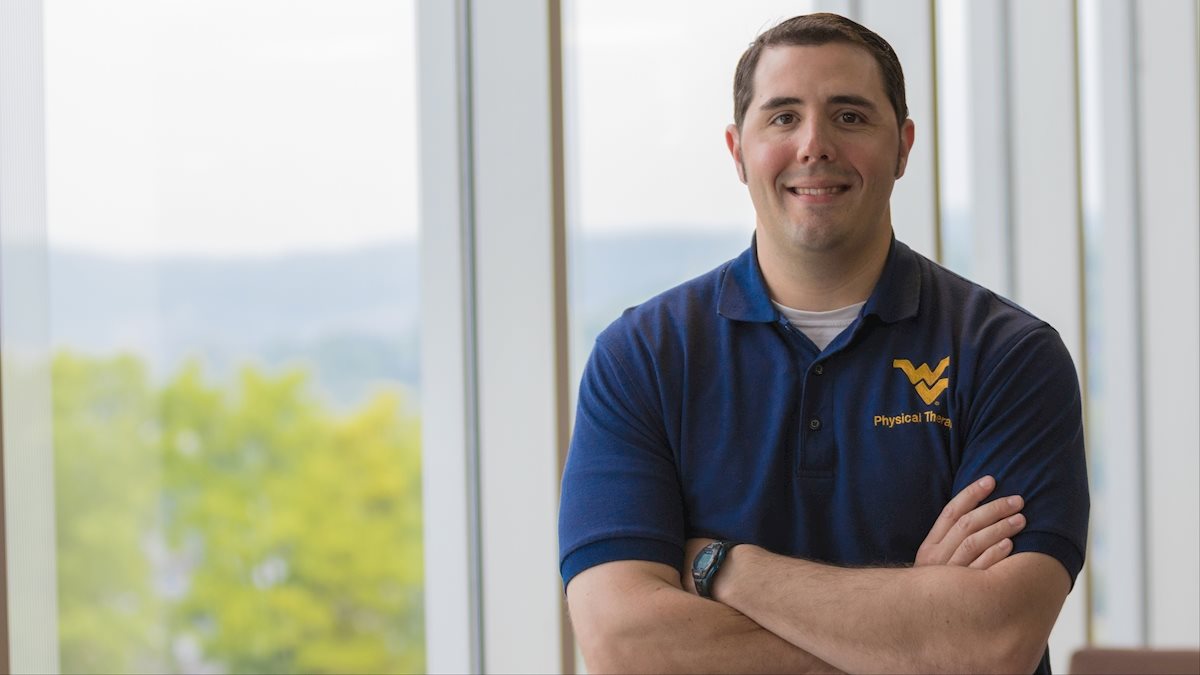 Editor's Note: As Commencement nears, WVUToday is featuring some of the University's most dedicated graduates. Here is the story of one of those students.)
Growing up, Benjamin Ray wanted to become an Army Ranger to fulfill the strong duty he felt in serving his country. A native of Fairmont, West Virginia, Mr. Ray was honored to be able to serve in the military for six years during which he participated in seven combat deployments to Iraq and Afghanistan. An accident helped point him to his future career in physical therapy.
"In March 2006, between my second and third deployments, my unit was conducting training in Louisiana," Ray said. "One of the several training missions was to fasten rope onto a building rooftop and clear the building from top-down. As it was my turn to descend from the MH-6 Little Bird helicopter, an error was made by the flight crew, the rope was released, and I fell about 20 feet to the concrete rooftop below with the rope in my hands. The rest of that night and the following 48 hours are hazy at best."
Refusing to let his multiple injuries slow him down, Ray spent the next six weeks resting before returning to his home base. He credits physical therapy with playing a major role in his recovery.
"During that time, the seed for physical therapy was planted," Ray said. "I became very interested in anatomy and kinesiology; however, my main concern was returning to duty to do the job that I had dedicated my life to at this point. With diligent work and the reassurance of my physical therapist, I made a full recovery and was cleared to return to duty, and I served for another four years and participated in five additional combat deployments with my unit."
Contemplating his long-term goals, Ray decided to leave the military in 2010 and pursue a college education. As a proud West Virginia native, the state's flagship university was his first and only choice. WVU's Exercise Physiology program echoed Ray's interest and catered to his aspirations and professional needs.
"As I scoured the course catalog, I found Exercise Physiology," Ray said. "A bit of further research showed me this degree would allow me to study topics that I was interested in. With the Exercise Physiology degree, you can get into an array of graduate programs and pursue a career in medicine, dentistry or physical therapy. I have been afforded several opportunities to volunteer and shadow physical therapists in a variety of settings. This is when my prior great experience with therapy began to resurface, and I knew for certain what I wanted to do."
Speaking of his experience at WVU, Ray describes it as inspirational. The robust support system, the resources available to students and the exposure to many different teaching styles and professors who are masters in their fields paved the way for a valuable educational journey.
"The entire faculty has made a great impression on me, and all of them have inspired me in one way or another," Ray said. "I think Dr. (Scott) Davis, one of our former professors, made a big impact on me. He led the bulk of our orthopedics and therapeutic exercise courses, which are at the core of physical therapy knowledge. He brought out every student's best performance."
Ray was on the fence about which professional route he will take. He recently accepted a full-time staff physical therapist position at Mountain State Physical Therapy, which has a number clinic locations serving north central West Virginia.
"I have kept an open mind and positive attitude about every setting a physical therapist can work in. I feel my best interests lie in orthopedic physical therapy, and I see myself practicing in rural West Virginia," he said. "If I go this route, I would like to eventually pursue an orthopedic clinical specialist (OCS) certification and possibly a certification in orthopedic manual therapy."
Ray strongly recommends the exercise physiology and physical therapy programs to prospective students. He also emphasizes the importance of investing in your education and reaching your full potential while also being actively engaged in diverse activities. For him, it was the WVU Fishing Club that resonated with his love for fishing and outdoor activities.
"I am so glad that I was admitted to the WVU Physical Therapy program and completed my education here," Ray said. "You will realize when you begin your full-time clinical rotations how valuable it is. Working through this program will fill your head with knowledge that may seem overwhelming, and you may forget small things that you had just studied for long periods of time and were tested on. However, this knowledge will come back to you when you begin to see it in real clinical experiences, and you will also be glad that you received a top notch education from the best faculty around."
-WVU-
des/05/09/17
The School of Medicine will hold three commencement ceremonies during the weekend of May 12-14, 2017: Ph.D. candidates at 9:00 a.m. on Fri., May 12 in WVU Health Sciences's Okey Patteson Auditorium; medicine doctoral candidates at 6:00 p.m. on Fri., May 12 at the Creative Arts Center; and, professional programs candidates at 4:00 p.m on Sun., May 14 at the WVU Coliseum. All ceremonies will be webcast live at www.webcast.wvu.edu. Following the events, videos will be available for viewing on WVU's official YouTube channel, WestVirginiaU. For more information, visit WVU Health Sciences commencement website at hsc.wvu.edu/commencement/.
For news and information on the WVU School of Medicine, follow us on twitter @WVUMedSchool, like us on Facebook or visit medicine.hsc.wvu.edu.