Traditions delivered through technology for WVU medical students on National Match Day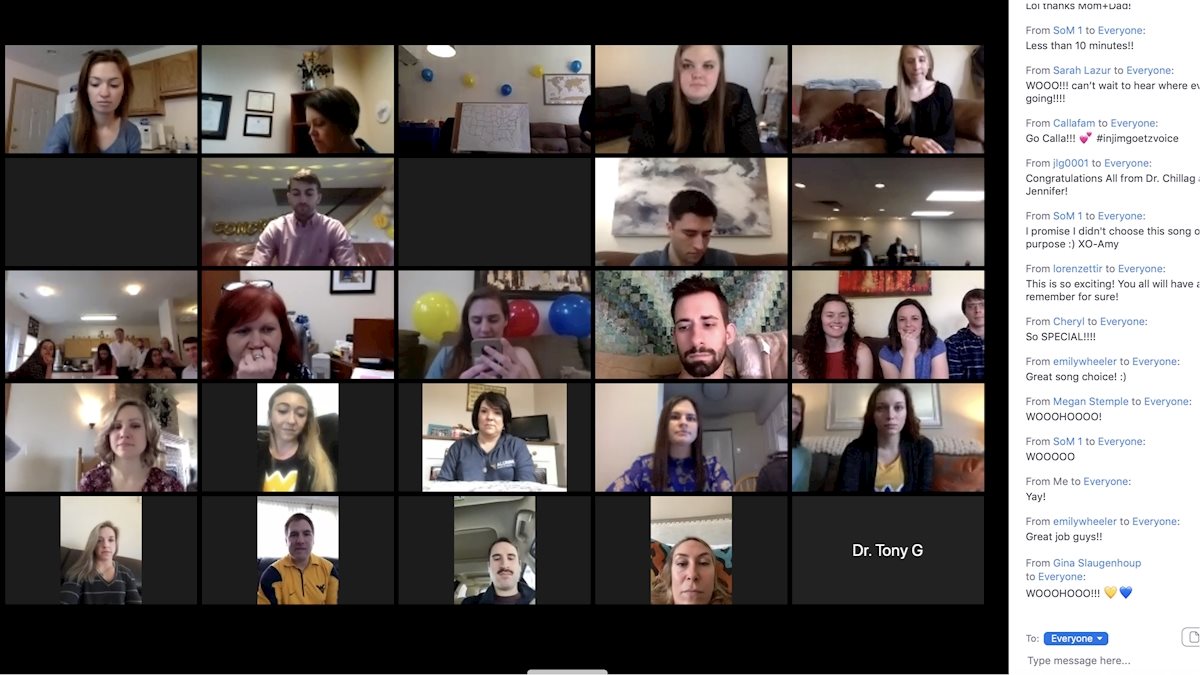 For a video, Spotify playlist, and student profile related to Match Day, visit go.wvu.edu/matchday.
For fourth-year medical students at West Virginia University, it was a day they had worked toward for their entire medical career - Match Day. It's the day they learn where they'll be completing their residency training.
The ceremony, the celebrations, the sharing of news with friends and loved ones – for most it's a time equally – if not more – important than graduation itself.
"We look forward to Match Day for years. It's especially important after spending two years scattered around for clinical rotations," said Philip Hurst, class president. "But, the Class of 2020 is a resilient and loving group. While we didn't get a chance to spend the day together, in person, we had a great time encouraging each other from afar."
National Residency Match Day is a celebration where medical students learn in which U.S. residency programs they will train for the next three to seven years. For WVU's School of Medicine's three campuses: Morgantown, Charleston and Eastern, the celebration typically unites more than 100 students, families, faculty members and friends as they unveil their "match."
This year, due to CDC guidelines on social distancing and group gatherings, the students took the initiative to introduce alternative ways to celebrate "together" while opening the email with their results apart from others.
The virtual ceremony included class members, faculty, staff and family members. Participants watch in real time to see more than 70 students participating in virtual match celebrate with their peers.
"The ability for these students to quickly pivot and execute a news means of celebration speaks volumes to the types of healers and leaders I know they will become," said Clay Marsh, M.D., vice president and executive dean of WVU Health Sciences. "This is further proof that we've helped develop them to realize their potential in areas that all physicians need – resourcefulness, compassion and inclusivity. The way they handled this event with all three greatly inspired me."
About the Match
For students, the Residency Match process begins in the final year of medical school, when they apply to the residency training programs and specialties of their choice. Following interviews at programs across the country, applicants and program directors rank each other in order of preference and submit those lists to the National Resident Matching Program, which processes them using a computerized mathematical algorithm to "match" them.
Students had a 100 percent placement rate. Other stats for WVU's Match Day include:
Students placed in 21 different specialty training programs across 25 states.
Fifty percent of students matched in primary care specialties. Internal medicine and pediatrics and family medicine were the top three specialties for the class.
Approximately 1/3 of the class will remain in West Virginia to complete their residencies.
Of the class, Norman Ferrari, M.D., vice dean for education and academic affairs and chair of the WVU Department of Medical Education, said the group's resilience was also demonstrated by the match statistics.
"You look at this class and see they've matched from Massachusetts to California, Michigan to Florida – it's something special. It demonstrates this class really strived for excellence and are committed to furthering their skill set to serve future patients the best they can," he said.
WVU has the largest number of graduate medical education offerings in the state, with more than 50 specialty training programs, all of which are fully accredited. One-half of those training programs are the only such specialty programs offered in the entire state.
Residency training begins at WVU in July for residents from medical schools across the country.