WVU Critical Care and Trauma Institute plans expansion of Fresh Tissue Training Lab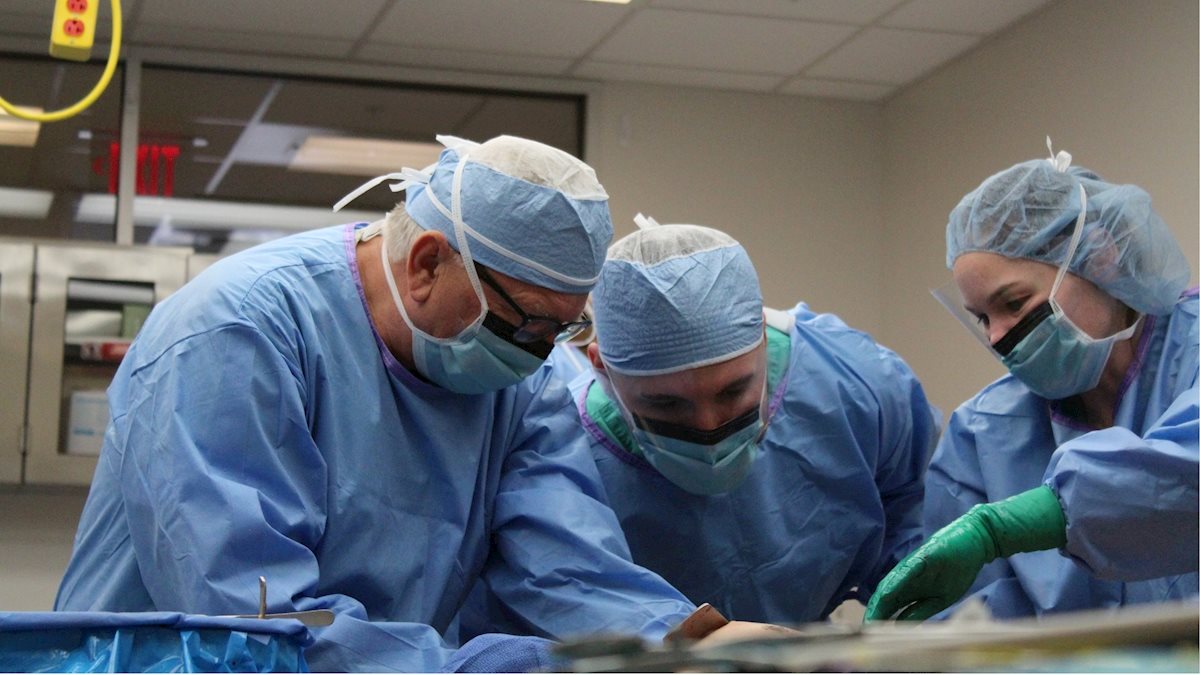 MORGANTOWN, W.Va. – Since it was established in 2018, the WVU Critical Care and Trauma Institute Fresh Tissue Training Program has provided opportunities for surgical residents and military medics to train for procedures and hone their skills. Due to its success and the high demand, the program is planning a $2.2 million renovation and expansion of its facilities with funding provided by WVU Medicine.
"As the academic medical center of the state's land-grant university, we are responsible for training the next generation of healthcare providers. The Fresh Tissue Training Program is a demonstration of our ongoing commitment to those training opportunities," Albert L. Wright, Jr., president and CEO of the WVU Health System, said. "We are proud to see this program flourish and grow to the point of needing a larger facility in order to share skills that will have an impact not only in our state, but across the nation and world."
The program's innovative training model uses fresh cadavers provided by the WVU Human Gift Registry and connected to perfusion machines, which pump simulated blood through the body to create lifelike trauma and surgical scenarios. The groundbreaking program, one of four in the nation, is a collaborative effort between the WVU Critical Care and Trauma Institute, the Department of Surgery, and the WVU School of Medicine Department of Pathology, Anatomy, and Laboratory Medicine.
The program currently operates out of a 500-square-foot space with one operating table located in the autopsy suite at the WVU Health Sciences Center in Morgantown, as well as an off-site location.
The WVU Critical Care and Trauma Institute has opened the facility to surgical trainees throughout the state and special forces, both on active duty and as part of the National Guard, to offer sustaining skills and refresher training for military and surgeons statewide. The renovation and expansion will allow the program to create more training opportunities for the next generation of WVU surgical residents and special forces medics.
"This program has grown to have an impact across the world," Daniel Grabo, M.D., WVU Critical Care and Trauma Institute trauma education director, said. "We can provide training opportunities that simulate real-life scenarios in a way that prepares surgeons and the military to be able to respond when lives are on the line. We look forward to being able to expand our offerings in our new space so that we can continue to help others save lives."
Those interested in supporting the renovation and ongoing costs of the WVU Critical Care and Trauma Institute Fresh Tissue Training Lab can do so on Wednesday, during the 2023 WVU Day of Giving.
The Day of Giving serves as a convenient opportunity for Mountaineer Nation to contribute to the purposeful transformation being done at WVU, focused on improving higher education, improving healthcare, and improving lives in West Virginia and beyond. For 24 hours, students, alumni, patients, and friends come together to support the University.
Please visit https://dayofgiving.wvu.edu/giving-day/66107 and designate the Fresh Tissue Training Program as the donation recipient.