WVU students and patients discuss stuttering and advocacy with NBA player Michael Kidd-Gilchrist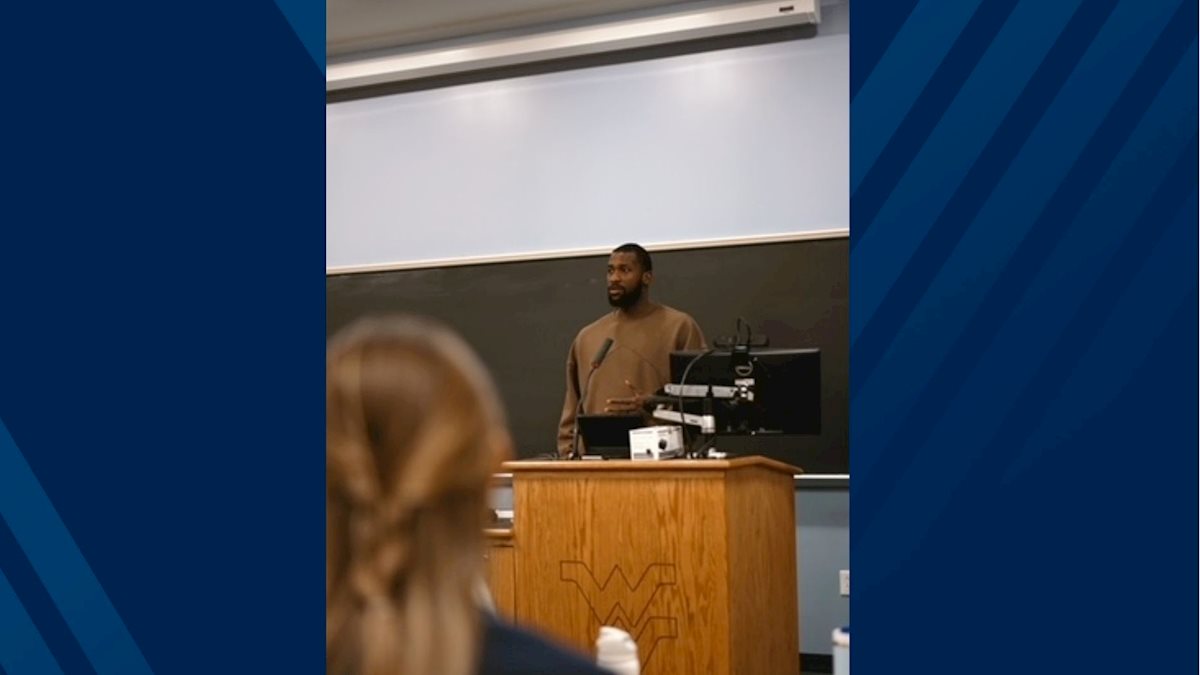 Members of the West Virginia University campus and community met with NBA player and University of Kentucky Men's Basketball Champion Michael Kidd-Gilchrist to discuss his personal experiences as a person who stutters.
Kidd-Gilchrist was on campus and WVU Medicine Children's Hospital on Friday, March 3, to meet with students and faculty of the WVU Communications Sciences and Disorders program. The presentation was followed by a community meet and greet with children who stutter and their families.
Kidd-Gilchrist is a strong advocate for access to speech therapy for those who stutter. He travels the country visiting universities and hospitals to talk about the importance of speech therapy, the trusted relationship between a person who stutters and their Speech-Language Pathologist and how both changed his life.
"When I first started speech therapy, I told my therapist I didn't want anyone to know about my stutter," he said. "Today, I want to share my story. I see my stutter as a gift that I have embraced because now I can help others including those who are getting into the field of speech-language pathology."
Communications Sciences and Disorders Chair Jayne Brandel, Ph.D., CC-SLP, said Kidd-Gilchrist's visit gave the students a new outlook on the patient experience.
"Students are applying what they learn in the classroom to their clinical experience," Brandel said. "But anytime they can hear a first-hand account of a patient it really helps to reinforce the lessons we teach. That's a lesson that is unique to the individual but the compassion it reminds us of can be applied to so many of their current and future patients."
In 2020 when spending time in the NBA 'bubble' during the COVID-19 pandemic, Kidd-Gilchrist began reflecting on his own stutter while learning more about all the barriers the stuttering community faces. He considered how to turn his knowledge and experience into actionable and meaningful ways to educate, advocate and raise awareness about stuttering.
In 2021, Kidd-Gilchrist founded his non-profit organization, Change & Impact, Inc. with a mission to improve access to healthcare and expand services and resources for those who stutter.
For more information on WVU Communication Sciences and Disorders, visit medicine.wvu.edu. For Speech, Language and Hearing patient appointments, visit health.wvu.edu/clinics.
About Change & Impact, Inc.
Founded in 2021 by Michael Kidd-Gilchrist, Change & Impact, Inc. is a 501(c)(3) organization with a mission to improve access to healthcare and expand services and resources for those who stutter. As a person who stutters, Kidd-Gilchrist started Change & Impact to advocate, educate, and raise awareness about stuttering. To learn more, visit www.changeandimpactinc.org