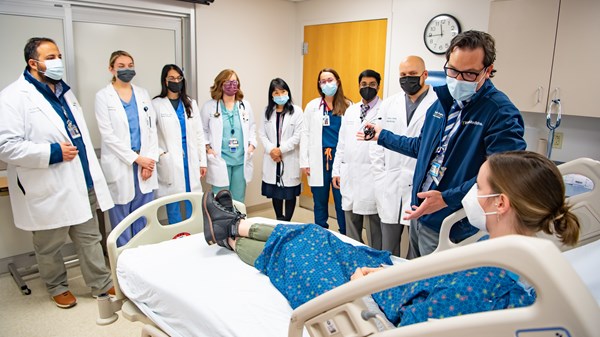 The Division of Hospital Medicine is the largest division in the WVU Department of Medicine. We have a wide range of specialty teams including 13-day teams and three-night teams. We provide care for patients at five locations including J.W. Ruby Memorial Hospital, WVU Medicine Fairmont Medical Center, Stonerise Morgantown, Stonerise Kingwood, and Encompass Acute Rehab. The division was born in 2016 and has been nearly doubling in size since the start of the program. Our LPNS serve as an important part of the division which bridges the gap between patients' discharge from the hospital to post-admission visits with their primary care providers. The division has faculty who specialize in areas such as teaching, geriatric medicine, quality of care committees, command center triage, medical informatics, infectious disease, and general medicine.
Members of the Division provide a variety of specific services, including
Comprehensive care admission to discharge.
Coordination of post-acute care with patient's primary care providers and region-wide post-acute care facilities.
Preoperative assessments.
Routine care of both common and diverse medical illnesses.
Inpatient medical consultation for surgical, cardiovascular, neurology patients as well as all other inpatient service lines.