Silverberg inaugurated as president of the West Virginia Academy of Family Physicians and Brenwalt recognized with Physician of the Year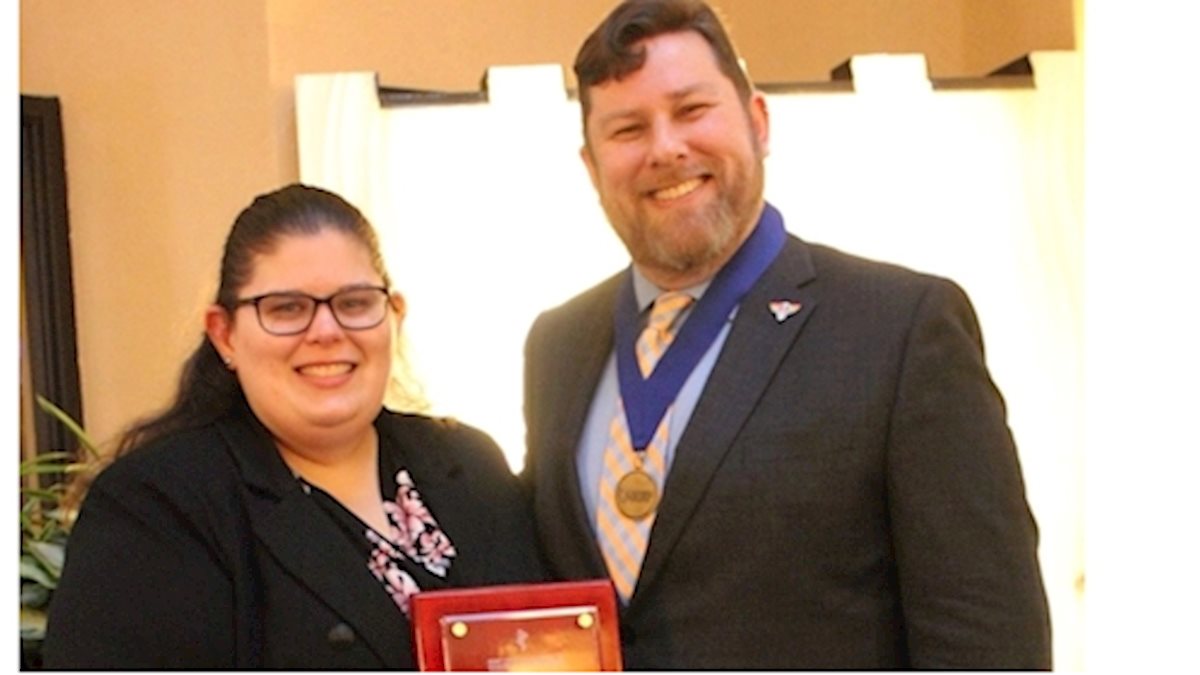 Image provided by West Virginia Academy of Family Physicians
Benjamin Silverberg, M.D., associate professor and medical director of the Physician Assistant Studies program was recently inaugurated as president of the West Virginia Academy of Family Physicians (WVAFP) at the academy's 2023 Annual Scientific Assembly.
The president of the WVAFP works with and advocates for family medicine physicians around the state to create change in the healthcare system.
"It's an honor to represent not only West Virginia physicians, but also patients while trying to improve the ways we deliver care, and the ways patients receive care," said Dr. Silverberg.
Silverberg first became involved with the WVAFP through legislative and outreach work.
"Through the WVAFP, I've been able to connect with other physicians around the state to see their various perspectives, which has certainly shaped the time I've spent at WVU," said Silverberg.
Silverberg explains that serving as medical director of the Physician Assistant Studies program has also been beneficial when working in a variety of roles.
"This position has allowed me to work as teaching faculty, helping to grow our new program and, in particular, hopefully having a positive impact on students in their pre-clinical years," Silverberg said.
Looking toward this term of presidency, Silverberg has several goals.
"I want to bring together physicians around West Virginia from all types of practice settings to address the health challenges we face as a state," said Silverberg. "My goal is to find ways we can educate ourselves as physicians to provide better care while educating the populations we serve. I also want to ensure that we as physicians are taking care of ourselves and are thoughtful about how we invest our time."
During the assembly, Silverberg also presented Amy Brenwalt, M.D., assistant professor in the WVU Department of Family Medicine with the WVAFP Physician of the Year Award.
The award honors a family medicine physician who has advanced the specialty by inspiring physicians through their individual acts of leadership and mentorship.
"Dr. Brenwalt is the epitome of what it means to be a physician in West Virginia. Having received all her education in the state and now practicing here shows how much she cares for the people of the state," Silverberg said.
For Brenwalt, being recognized among other physicians in the state is an honor.
"I was very surprised and honored to receive the award," said Brenwalt. "Dr. Silverberg has been a great mentor throughout our time at WVU together. I was very humbled to receive an award that other stellar family medicine physicians have received for their impactful work throughout the state."
Brenwalt notes the importance of the WVAFP for healthcare in West Virginia.
"The WVAFP has always been very supportive, and they work hard to advocate for the healthcare of patients and well-being of family medicine physicians across West Virginia," said Brenwalt.
As Brenwalt looks toward the future, she is excited to continue working in the WVU Department of Family Medicine by serving patients in Morgantown, West Virginia and surrounding communities.
"We are working on expanding home health services to patients in the area in addition to the many other services that we provide including multi-disciplinary clinics for chronic medical conditions and weight loss, prenatal and obstetrical care, basic women's health care and procedures, pediatric and adolescent care, geriatric care, minor surgical procedures, vasectomies, acupuncture, sports medicine, and so much more," said Brenwalt.
Silverberg earned bachelors' degrees in chemistry and dramatic arts from the University of North Carolina at Chapel Hill and masters' degrees in biochemistry from Georgetown University and global health from Duke University. Silverberg attended medical school at the University of Connecticut School of Medicine and completed residency in family medicine at the University of Virginia with fellowship training in community medicine at Kaiser Permanente Los Angeles Medical Center.
Brenwalt earned a bachelor's degree in animal and nutritional sciences from WVU and later completed medical school and family medicine residency at WVU School of Medicine. Her research and education focus is on women's health, and she has a passion for healthcare worker well-being. She recently completed the American Academy of Family Physicians Leading Physician Well-being Certificate Program.
The West Virginia Academy of Family Physicians was founded in 1948 representing over 1,000 physicians and medical students across West Virginia and is a chapter of the American Academy of Family Physicians.
To learn more about the Department of Family Medicine and the Physician Assistant Studies program visit medicine.hsc.wvu.edu/fammed/ and medicine.wvu.edu/physician-assistant-studies/.