MEET THE GRADS: Small town West Virginia student's passion leads to medicine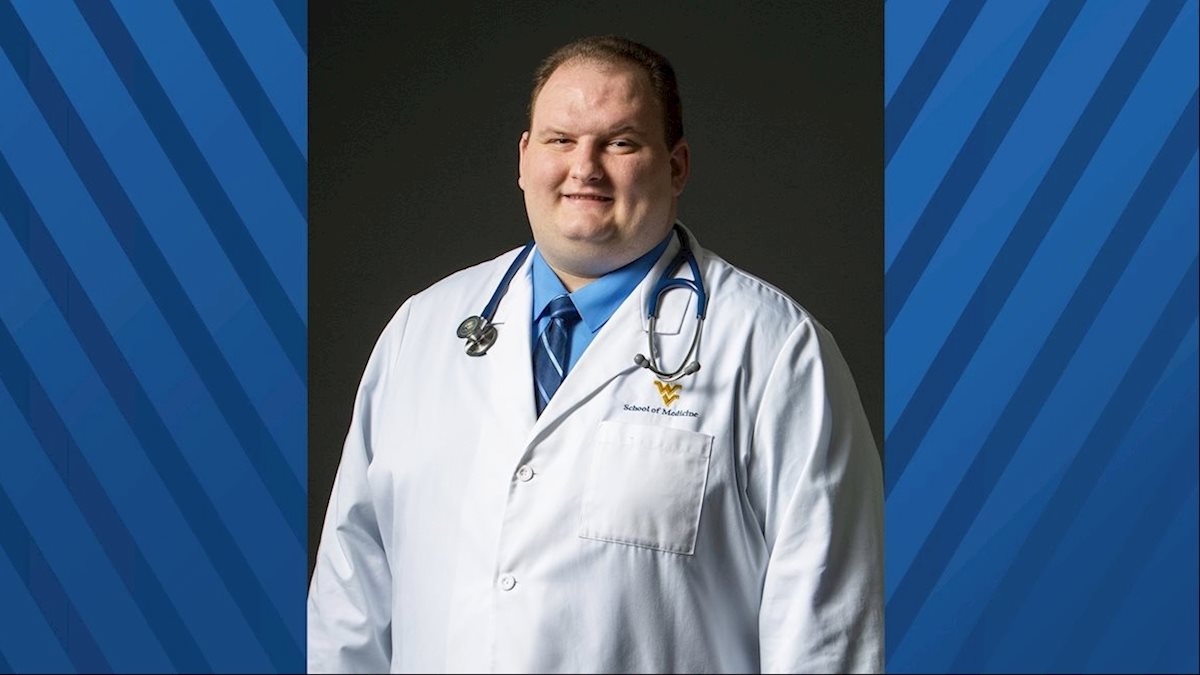 (Editor's Note: As commencement nears, WVU Health Sciences is featuring some of our most dedicated graduates. Here is the story of one of those students.)
Darrin Nichols was meant to be a doctor. With a penchant for community service and a passion for human anatomy and biology, he found in medicine the career path that perfectly complements his interests and future aspirations.
"As I began to ponder where my college education would take me, I couldn't help but be attracted to medicine," he said. "Medicine requires a great deal of education and combines service, leadership and knowledge, all of which I value greatly. It wasn't until my junior year of undergraduate study that I got to shadow physicians for the first time, and seeing these family physicians interact with their patients inspired me. From that moment forward, I knew that going to medical school was the right choice for me, and I knew that becoming a family physician was what I was meant to do."
A resident of Walker, West Virginia, Darrin stepped out of his comfort zone to attend West Virginia University. Despite the overwhelming transition of coming from a small high school with a population of 350 students to a large university with more than 30,000 students, Darrin praised WVU for its flexibility and and the breadth of resources available at students' disposal.
He graduated summa cum laude in 2013 as a university honors scholar with a bachelor of arts degree in biology from WVU's Eberly College of Arts and Sciences. He also earned a minor in business administration from WVU's College of Business and Economics before being accepted into the medical degree program at WVU.
Darrin's experience as an undergraduate student in biology at WVU was a natural stepping stone to pursue a career in medicine. He was ecstatic the day that he received his acceptance letter to WVU's medical school.
"Because of my experience, if felt only natural that I transitioned to the School of Medicine," he said. "I applied under the early decision category, meaning that I could only interview at WVU's School of Medicine. I have found the last four years to be just as great, if not better, than my first four years at WVU."
Reflecting on the time he spent at WVU, Darrin labels it as unique. The high quality of education WVU provides and the active community surrounding it fosters life-long learning and passion for leadership and service.
"One of my favorite things about West Virginia University is that students really do develop close relationships with people, and these relationships grow into large networks that span the nation, and even the globe," Darrin said. "WVU's School of Medicine is no different; I truly believe it is one of the best. The faculty and staff of the School of Medicine are unique, dedicated and caring individuals. They inspire medical students daily to take charge of their education, to always keep patient care at the top of the priority list and to work together to accomplish common goals."
Darrin is part of the WVU School of Medicine Rural Track, a program designed to go beyond routine medical school training to significantly impact the delivery of healthcare in an underserved region. Darrin explains how the program mission, paired with a rigorous mentorship, made the largest impact on him.
"I have had the distinct honor of being part of the WVU School of Medicine Rural Track, which has allowed me to gain extra experience in rural areas of West Virginia," he said. "WVU's Rural Track offerings fit my goals perfectly and I am extremely grateful for this opportunity. The School of Medicine's faculty is excellent. Dr. Dorian Williams and Dr. Treah Haggerty have been really supportive. Heather Hanks, the Rural Track student coordinator has taken each Rural Track student and devoted individual attention to helping us succeed, and Dr. Tracy Hendershot, a local rural physician in Wirt and Wood Counties has been a role model for me since I met him. He is a clinical assistant professor for the School of Medicine, and his guidance and advice had a tremendous impact on me personally and professionally."
During his time at WVU's School of Medicine, Darrin has been involved in a diverse array of rewarding activities. He also took part in programs in his hometown area in Wood County.
"Early on in medical school, I served as the associate student director for the Family Medicine Interest Group, and as a student leader-coordinator for MUSRHOOM, the Multidisciplinary Un-Sheltered and Homeless Relief Outreach of Morgantown program," Darrin said. "In MUSHROOM, I led groups of student volunteers around downtown Morgantown throughout the year to provide basic needs and meaningful communication to the local homeless community."
In his third year of medical school, Darrin became president of Stepping Stones, an organization similar to MUSHROOM, on the Eastern campus of WVU's School of Medicine. Most recently, he has been serving on the Gold Humanism Summit Committee at the Charleston campus, which is charged with creating an educational summit that takes place every year at the Charleston Area Medical Center.
Darrin's achievements and contributions don't stop there. Motivated by his passion and hard work, he was a recipient of various awards and honors throughout his three years in medical school, the latest of which was a national competitive scholarship based on the merits of academic achievement, leadership, research and service.
He was named a 2016 Pisacano Scholar by the American Board of Family Medicine, a prestigious award given annually to only five medical students across the country. Darrin was the first student from West Virginia University to be named a Pisacano Scholar since the foundation was started in 1993.
"Early during my medical school career, I received Letters of Special Commendation from the Committee on Academic and Professional Standards for academic performance," he said. "I have been a recipient of the Institute for Community and Rural Health Medical Student Scholarship for the past three years, and in my third year of medical school, I was inducted into Alpha Omega Alpha, a national medical honor society. In the same year, I was also inducted into WVU's chapter of the Gold Humanism Honor Society. I have been named as a Rural Scholar at the Charleston Division of the WVU School of Medicine. At the end of my third year, I was awarded the WVU School of Medicine Eastern Campus's Community Health Outreach Award. Most recently, I have been named a recipient of the West Virginia Higher Education Policy Commission's Health Sciences Service Program Scholarship." In August of 2016, The PIsacano Leadership Foundation of the American Board of Family Medicine named me one of five 2016 Pisacano Scholars across the nation."
Asked about his future plans, Darrin emphasizes that his goal, after completion of his family medicine residency at Charleston Area Medical Center, is to return to his hometown area in Wood County to practice as a family physician and primary care provider.
"Being from a small community, I am so appreciative of the resources that were expended by my family, friends, neighbors and other community members who helped get me to where I am today," he said. "I hope to work in a complete family practice setting, seeing patients from newborns to elders and from a variety of backgrounds. This is the aspect I find most interesting about Family Medicine – this variety makes the practice of family medicine anything but ordinary."
The School of Medicine will hold three commencement ceremonies during the weekend of May 12-14, 2017: Ph.D. candidates at 9:00 a.m. on Fri., May 12 in WVU Health Sciences's Okey Patteson Auditorium; medicine doctoral candidates at 6:00 p.m. on Fri., May 12 at the Creative Arts Center; and, professional programs candidates at 4:00 p.m on Sun., May 14 at the WVU Coliseum. All ceremonies will be webcast live at www.webcast.wvu.edu. Following the events, videos will be available for viewing on WVU's official YouTube channel, WestVirginiaU. For more information, visit WVU's commencement website at www.graduation.wvu.edu.
For news and information on the WVU School of Medicine, follow us on twitter @WVUMedSchool, like us on Facebook or visit medicine.hsc.wvu.edu.
--WVU--
des: 4/21/17
Contact:
Tara Scatterday
Director, Communications and Marketing
WVU School of Medicine
tdscatterday@hsc.wvu.edu | 304-293-0630