Lectures

The Department has a comprehensive teaching conference schedule. Residents, faculty, and clinical personnel attend conferences each Wednesday morning beginning at 6:30 AM. Topics include review of Campbell's Urology, Pediatric Urology, Integrated Cases in Uropathology and Uroradiology, and a Complications Conference. A complete schedule of topics is provided monthly. Residents actively participate and present materials at each conference. A handout summary is provided for all attendees. The Pediatrics and Complications Conferences are CME accredited.
Wednesday Morning Conference Schedule
6-Sep-17
630 – 7
Update on Muscle Invasive Bladder Cancer 
Dr. Luchey
7 – 815
2018 MD Candidates and Urology Applicant will present their Grand Rounds Talk
Drs. Tariq Latif and Nicole Balko
 
 
 
13-Sep-17
630 – 7
Case Presentations
Dr. Luchey
7 – 730
SASP
John Barnard
730 – 815
SASP
Chad Crigger
 
 
 
20-Sep-17
 
*** Up to date CV is due by all residents *** SASP report is due ***
 
630 – 715
"What I learned at the Mid-Atlantic and How I will Apply It to My Practice"
Morris Jessup, Ali Hajiran
715 – 815
Kidney Stone Presentation 
Dr. Morley
 
 
 
27-Sep-17
730 – 815 
Lap and Robotics – Core Curriculum found at  auanet.org
Jacquelyn
 
 
 
4-Oct-17
700 – 745 
Medical Management of BPH – Core Curriculum – and MTOPS trial
Shirley
745 – 815 
Faculty Meeting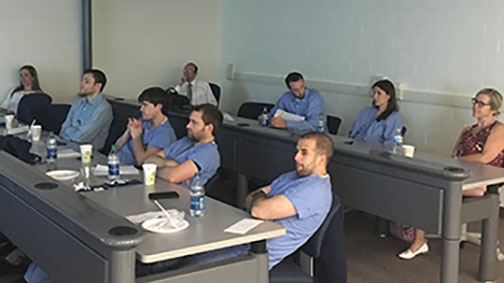 Some of the residents, faculty, and mid-level providers attending the Wednesday Urology Conference.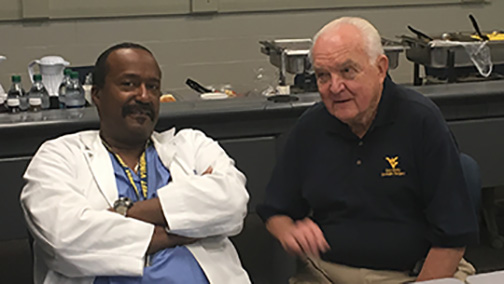 Henry Fooks, MD, and "Coach" Stanley Kandzari, MD, attending the weekly conference.