Community invited to Walk with a Future Doc on Saturdays in Morgantown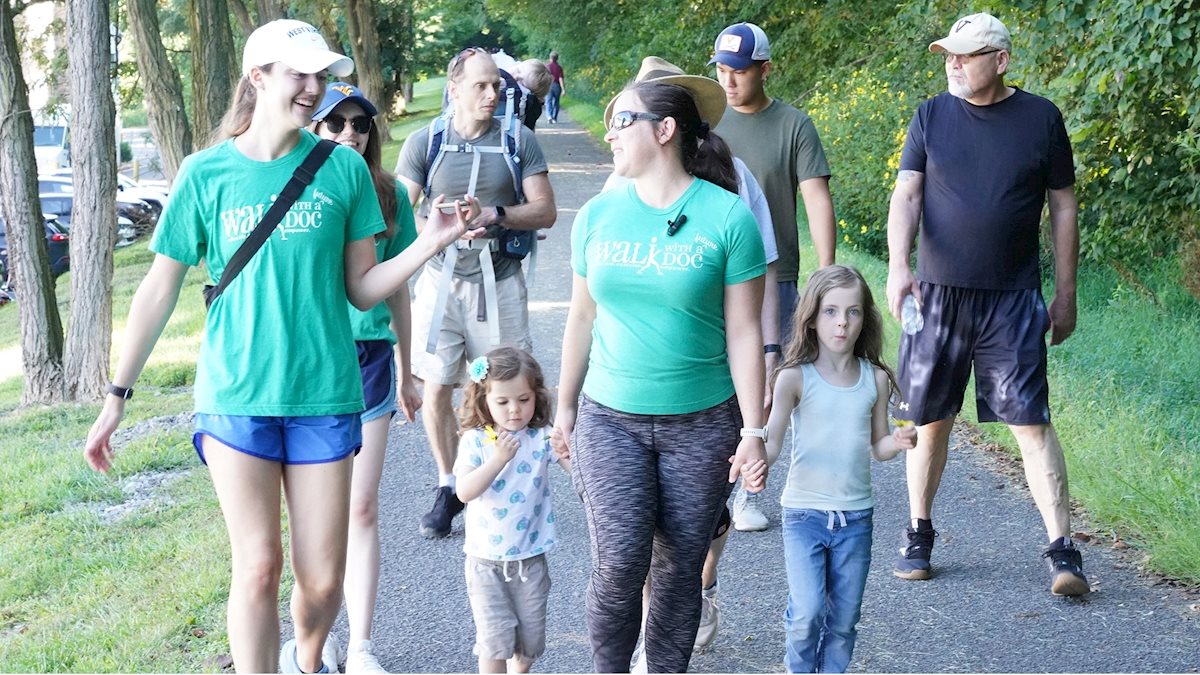 Community members can join West Virginia University School of Medicine students and physicians at 10 a.m. on the first and third Saturdays of each month to walk at the Star City Riverfront Park in Morgantown each month during the academic year.
The Walk with a Future Doc program began in August and will last through April. The student-led program is free and open to the public. Attendees are encouraged to bring family members, friends and pets to join them on the walk.
Before each walk, a WVU medical professional or trainee leads a discussion on a health-related topic of their choice. Following the presentation, the speaker will continue interacting with participants by answering questions and conversing during a group walk along the rail trail.
In addition to in-person walks, the program also offers a virtual option. Those wishing to attend remotely can do so by logging in on Zoom, where they can listen to the presentation and walk along at home during the walk portion of the event. Walk with a Future Doc student officers provide conversation and feedback and answer questions for those attending virtually. The Zoom link is provided to attendees by student officers each week via the program's newsletter.
"The virtual attendance option has been crucial to us as we continue to expand this program and build a connected community of walkers," said third-year medical student and president of the Walk with a Future Doc chapter at WVU, Michael Sutton. "It allows us to extend our reach beyond Morgantown and have participants from all across West Virginia."
The Walk with a Future Doc chapter at the WVU School of Medicine was launched in the Spring of 2020 by a group of WVU medical students enrolled in the Culinary and Lifestyle Medicine Track. During the 2022-2023 academic year, the program hosted nearly 20 walks covering various health-focused topics. The program also hosted its first Pediatric Day and Culinary Day events, which student officers say they hope to hold again this year.
To learn more about this program and receive emails with the speaker, topic, and Zoom login information ahead of each walk, sign up for the WVU Walk with a Future Doc Newsletter. Walk information and information about future events can also be found on the WVU Walk with a Future Doc Facebook page.