Department of Otolaryngology, Head and Neck Surgery celebrates 55 years of education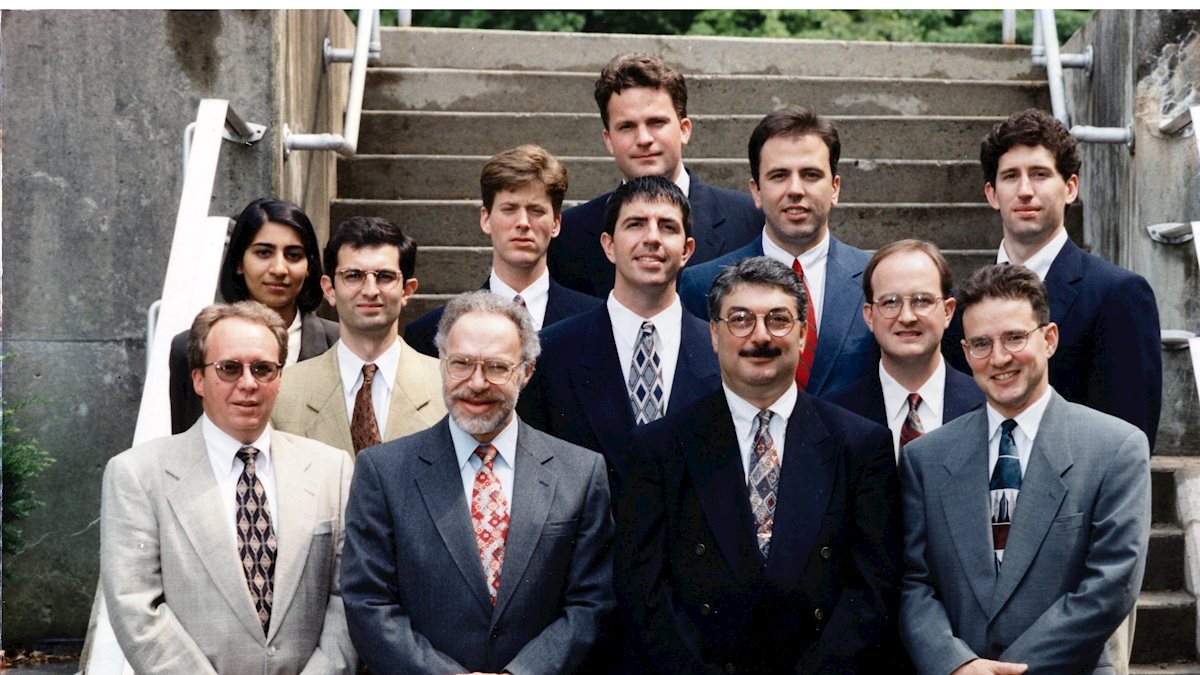 Featured above: Department group photo from 1994 when the team consisted of four faculty members and eight residents.
The West Virginia University Department of Otolaryngology, Head and Neck Surgery recently turned 55 years old, celebrating decades of education and training for more than 100 program graduates, many who have stayed in West Virginia to practice through their careers.
Starting from a single faculty member in 1965, the department now boasts 17 clinical faculty members, six advance practice professionals, eight audiologists and a new class of three residents a year for a five-year program.
'Since its inception, the Department has always been about providing the best care for citizens of West Virginia and surrounding states," Hassan Ramadan, M.D., professor and department chair, said. "It has also been about educating West Virginia residents after which they will go back to provide care for their communities. This vision has been met all through the years and it has also evolved to training residents who went on afterwards to pursue subspecialty training by doing fellowships and getting jobs at academic institutions all through the country and becoming educators including staying or coming back to WVU."
Today, the department has all fellowship-trained faculty across all disciplines of ear, nose and throat medicine: head and neck, pediatric, rhinology and skull base, robotics, otology, facial plastics, sleep, allergy and laryngology.
Training opportunities for residents are available across multiple clinics, including service to Louis A. Johnson VA Medical Center in Clarksburg. In 2020, the department performed more than 2600 procedures and saw 55,000 patients.
Phillip Sprinkle, M.D. served as the first department chair. During his tenure, the program was established as the only academic and training program in the state with one resident slot per year.
"The program has always been known nationally as one that will graduate strong clinicians, specifically as excellent surgeons," Dr. Ramadan said. "This has been accomplished by the culture that has been established by leadership over the years, which supported autonomy, strong supervision, and hard work. Since 1990, many of the graduates of the program stayed or came back to the state, either going back to their towns or joining the training program at WVU. Currently, more than half of the faculty are WVU graduates, which by itself is a testimony about what they think about the program."
The second chair, Stephen J. Wetmore, M.D., led the department from 1988 to 2015, growing the number of faculty to 10, with four Ph.Ds. and five audiologists in the department. In 2003, the department ranked in the top 10 of NIH research grant dollars earned.
Ramadan started as the department chair in June 2015, after previously serving as vice chair and residency program director.
For more information about the Department of Otolaryngology, Head and Neck Surgery, visit medicine.hsc.wvu.edu/otolaryngology.