WVU School of Medicine M.D. Class of 2023 set to launch education on right foot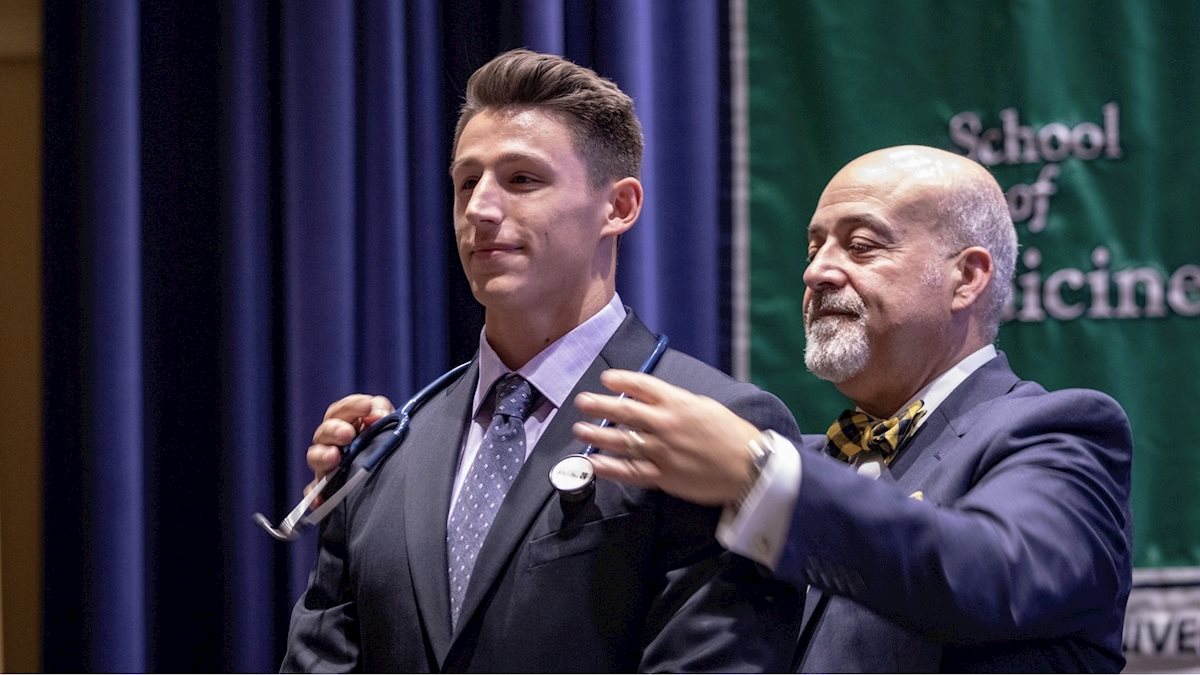 The future physicians at the West Virginia University School of Medicine are a diverse, creative and unique group. Among those who recently set foot on campus are students with broad interests, from writing fanfiction to antiquing, and a collegiate hockey captain along with an executive board member for their collegiate chapter of Habitat for Humanity.
However, the common thread that stands out with the class is a devotion to service and the willingness to help — many have served as teachers, tutors and advocates for their peers. The incoming class also boasts more than 476 community service hours per person.
That sentiment is something that school leadership, including Norman Ferrari, M.D., vice dean for education and academic affairs and professor and chair in the WVU Department of Medical Education, has noted about the class.
"Ultimately, when you think about what makes physicians successful in their careers, it boils down to compassion, which affects every aspect of patient care and how they interact with their peers," said Ferrari. "We're excited to help them build on that and lay a foundation for skills for them to rely on during their time here and beyond."
In terms of numbers, the students hail from 12 states and Canada. More than 24 West Virginia counties are represented. The class is divided exactly in half in terms of males and females.
Approximately 36 percent of the class earned their undergraduate degrees from WVU, and the other 64 percent come from 48 different undergraduate institutions. Sixty five percent of the class majored in chemistry, biology, biochemistry or pre-med. But a variety of other background studies are represented, including engineering, foreign language, public health, economics and accounting.
The class of 2023 began studies on the Morgantown campus in August for the first two years of medical school. Students are then assigned to either the Morgantown, Charleston or Eastern campuses to complete the remaining two years of studies and clinical rotations.
As part of professional development activities, medical students participate in the annual Oath of Integrity ceremony where they pledge their loyalty and passion to the field of medicine and their patients, and to their academic duties as students. They also receive a stethoscope that symbolizes good listening skills are important for physicians.
For news and information on the WVU School of Medicine, follow @WVUMedSchool on Twitter and Instagram, like the School on Facebook or visit medicine.hsc.wvu.edu.
-WVU-
For photos of the events, visit
zl 8/7/19