Welcome from the Chair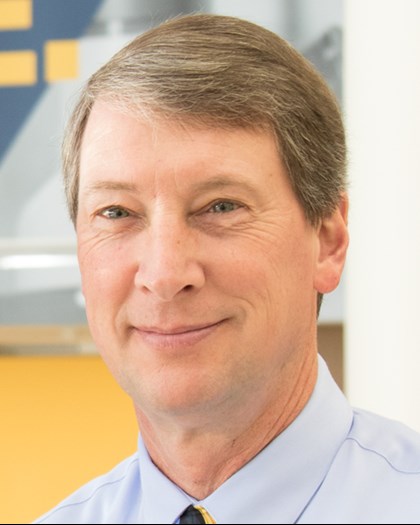 Randy Bryner, Ed.D.
Exercise Physiology
"It is a true privilege to work with some of the best young minds in all of WVU and to know in some small way you can make a difference in their lives. It is my goal to help all of our students become both successful scholars and important contributors to society."
Welcome to the web site for Exercise Physiology at West Virginia University School of Medicine. Exercise Physiology is the study of the genetic, biological and biochemical processes associated with exercise and overload that affects the underlying function of cells and organ systems in the human body in both health and disease. Exercise physiology is a rapidly evolving field that is becoming increasingly important in the delivery of health care. Exercise physiologists work to prevent or delay the onset of chronic disease in healthy participants or to provide therapeutic or functional benefits to patients with known disease. Graduates find careers in a variety of medical settings such as hospitals, rehabilitation centers, and outpatient clinics, in community, corporate, commercial and university fitness and wellness centers, in nursing homes ad senior citizens centers, as well as in research and academic settings
Research by scientists trained in Exercise Physiology have greatly expanded our understanding of the ways in which exercise affects cell, organ and whole body function. Advances in research in Exercise Physiology has provided a foundation for many types of medical treatment in areas that include but not limited to cardiovascular diseases, diabetes, aging, obesity and disuse atrophy. Employment opportunities are expanding and increase with experience and level of education.
We have a very strong four-year undergraduate program, which is quickly approaching 750 students in our major. A high percentage of the graduates of our undergraduate program choose to go on to professional schools for additional training including: medical school, schools of dentistry, physical therapy, occupational therapy, and physician assistant. Our undergraduate program is the ideal and preferred pre-medical and pre-professional training program because it provides training in anatomy, physiology, all of the pre-requisites for medical school and also provides a sound clinical training with patients (e.g., patients with cardiovascular disease, diabetes etc.) in our human performance laboratory, under the supervision of our medical director.
To prepare graduate students for careers in teaching and research, the Graduate Program in Exercise Physiology provides doctoral training in mechanistic studies of important cellular and systems processes that are regulated by exercise or lack of exercise (disuse) or a clinically important disease. The research in the Division focuses on three core areas: Cardiovascular and Metabolic Diseases, Muscle Pathophysiology, and Rehabilitation Science and Engineering. Students gain knowledge and expertise through formal course work, doctoral research in the laboratories of their research mentors, journal clubs and seminars, and in public presentations of their research data and teaching. Our program is interdisciplinary in its approach to scientific research, reflecting the interests of our faculty and the breadth of the discipline of Exercise Physiology.
The Division of Exercise of Physiology at the West Virginia University School of Medicine has 16 full time faculty and other affiliated faculty who are engaged in interdisciplinary studies that span molecular, cellular, systems and behavioral sciences, with strong emphases in muscle biology, cardiovascular biology, respiratory biology, biomechanics, and metabolic diseases. If you would like to study Exercise Physiology in a nationally prominent program, then Exercise Physiology at West Virginia University School of Medicine is the place for you!
We appreciate the time you have taken to visit our Website and hope that you will contact us with questions you may have about undergraduate training, or training in our masters or doctoral training programs or opportunities in research. There are outstanding opportunities for training in Exercise Physiology at West Virginia University School of Medicine, leading to challenging and rewarding careers in fitness, rehabilitation, research or teaching, or it may also provide you the best opportunity for acceptance into medical school, physical therapy, physicians assistance program or some other professional school. We look forward to hearing from you!
Best wishes,
Randall W. Bryner, EdD
Associate Professor and Chair of Exercise Physiology