Students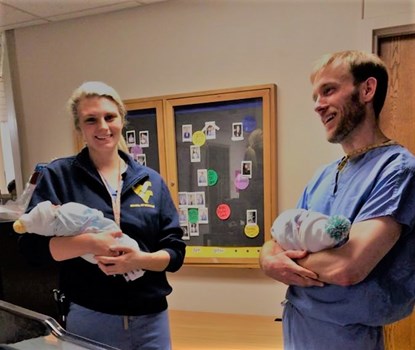 Welcome to the West Virginia University Department of Family Medicine. The essence of Family Medicine involves the expert management of relationships, knowledge, skills and technology. We strive to "see the big picture" by serving as healthcare advocates and by promoting prevention and wellness. Our goal in our student programs is to provide students with an opportunity to enhance clinical and interpersonal skills in a supportive and stimulating learning environment.
The practice of family medicine is very broad in scope and although rewarding can sometimes be an academic challenge as patients are diverse and their healthcare issues can be very complex. We teach a logical and compassionate approach to caring for patients of all ages with these sometimes vary diverse needs. We develop and continuously improve our program based on these needs.
For first year medical students we offer a Summer Externship Program that takes place prior to entering second year. Our third year medical students have a required eight week clerkship and the fourth year medical students we offer a month long sub internship or a month long clinic rotation. In July, we send two medical students to attend the AAFP National Conference in Kansas City with funding provided by Family Medicine Foundation of West Virginia. This is always an educational and rewarding trip to medical students.
Additional Unique Opportunities that our program offers is the rural scholars program. Developed in 2004, the WVU Department of Family Medicine Rural Scholars Program offers qualified students a unique opportunity to experience Family Medicine from a new and personalized perspective. The program goal is to identify students early in the medical school curriculum who are committed to a continuum of training that will enhance their ability to practice Family Medicine in rural West Virginia. Selection of scholars occurs in the third year of medical school and allows for a more intensive Family Medicine experience in the fourth year. Visit the Rural Scholars Program section of our website to learn more about this program and how to apply.