Third Year Clerkship (FMED731)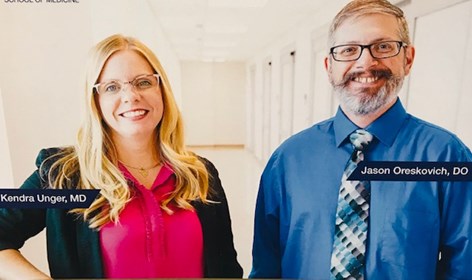 The Department of Family Medicine Clerkship is an eight-week rotation for WVU Third Year Medical Students that provides an opportunity to enhance clinical and interpersonal skills in a learning environment that is supportive and stimulating. During the eight weeks students have the opportunity to experience Family Medicine at one of three clinical campuses that include Morgantown, Charleston and Eastern. Students will also spend four weeks at a community site working with an experienced Board Certified Family Medicine Physician with WVU School of Medicine Faculty Appointment.
Family Medicine is very broad in scope and can be academically challenging with patients that are diverse and healthcare issues that are always expanding. The Clerkship program is designed to teach students a logical and compassionate approach to caring for these patients. During the program you will be challenged by participating in emergency and acute care management, chronic disease management, preventative care, and wellness promotion. You will be supported by our faculty in your development of new skills and common outpatient procedures.
Visit the Third Year Clerkship curriculum to find more information on the program.
Clerkship Directors
West Virginia University
Position

Assistant Professor, Co-Director Family Medicine Clerkship, Family Medicine

Phone

304-598-6900
West Virginia University
Position

MS3 Clerkship Director & Associate Professor, Family Medicine

Phone

304-598-6900
Clerkship Coordinators
West Virginia University
Position

Program Coordinator for Rural Track, Family Medicine

Phone

304-581-1638
Ashley Higinbotham
West Virginia University
Position

Residency Program & MS3 Clerkship Coordinator, Family Medicine

Phone

304-285-7089