A Message from the Chair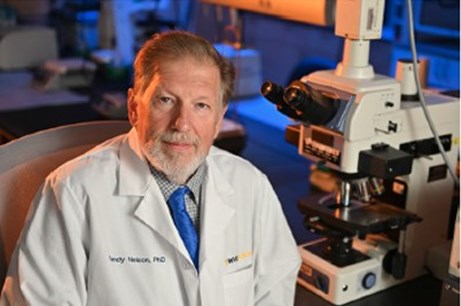 Welcome to the Department of Neuroscience. The Department was formed in 2018 as part of the innovative Rockefeller Neuroscience Institute at WVU to serve as the intellectual hub for studies of brain and behavior across West Virginia University. The Department comprises 21 primary and over 50 secondary faculty conducting cutting edge research spanning molecular to behavioral approaches, as well as computational and applied neuroscience. Our faculty are highly interactive and collaborative. We specialize in research in neurodegeneration, addiction, stroke, human performance, cognition, and sensory neuroscience. Foundational, Applied, and Translational/Clinical Neuroscience research efforts are coordinated within the department and across the university.
The Neuroscience Graduate Program offers interdisciplinary biomedical research training leading to the PhD or MD/PhD degrees. Reflecting the nature of contemporary neuroscience, our interdisciplinary graduate program comprises faculty from basic and clinical departments. Program mentors are drawn from the Rockefeller Neuroscience Institute and the adjacent National Institute for Occupational Safety and Health/Centers for Disease Control providing training opportunities in basic, applied, translational and clinical neuroscience. This environment affords our faculty and students prime access to the state-of-the-art resources needed to conduct world-class neuroscience research.
We are purpose-driven to address the brain health issues of the citizens of West Virginia, the US, and the world. By working closely with our colleagues in the clinical enterprise, we amplify the impact of our research. Please explore our website to see some of the exciting research being conducted at the Department of Neuroscience at WVU. Please contact me or any other faculty member for additional information.
Randy J. Nelson, Chair