WVU School of Medicine PA Program holds inaugural White Coat Ceremony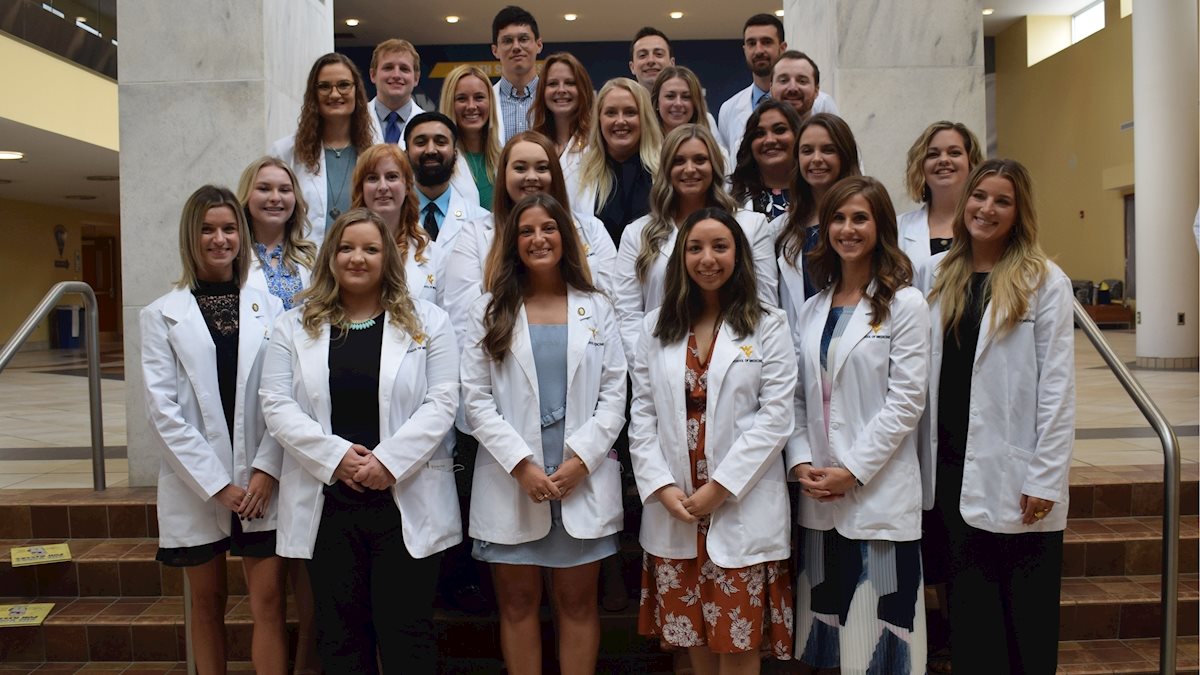 The Physician Assistant Studies program at the West Virginia University School of Medicine held their inaugural White Coat Ceremony on Sunday, July 11 in Okey-Patteson Auditorium at the WVU Health Sciences Center.
The ceremony for the PA Class of 2022 marks the transition from didactic learning in classrooms and labs to clinical rotations. The class matriculated in January of 2020 as the first-ever in the program with 24 students.
"The ceremony is an important milestone in the professional development for these students as it ultimately commemorates the responsibility of advocating for patients, committing to your profession and growing as a clinician," said Jennifer Momen, M.D., MPH, FAAP, Physician Assistant Studies program director.
"This class has shown incredible resilience in adapting their learning through the pandemic, and although they officially started in clinics in May, we're very happy to be able to celebrate this moment with them and their loved ones in person as they continue on rotations," she added.
Rotations for the students include internal medicine, family medicine, pediatrics, women's health, behavioral medicine, emergency medicine and general surgery.
In addition to those, the WVU program also has a rural PA practice rotation which aligns with the program's mission to address health disparity and its goal of preparing physician assistants to address issues of prevention and chronic disease management in rural and underserved areas.
The speaker for the ceremony is Dr. Sampath (Sam) Wijesinghe, a clinical assistant professor at Stanford School of Medicine Master of Science in Physician Assistant Studies program. Wijesinghe is passionate about teaching the next generation of clinicians and his clinical interests include primary care medicine, HIV medicine and global health.
The students also heard from WVU President E. Gordon Gee who was in attendance and Mary Beth Mandich, Ph.D., PT, the vice dean of Professional and Undergraduate Programs during the ceremony. Clay Marsh, M.D., vice president and executive dean for Health Sciences, delivered a virtual message to the students as well.
For more information about the PA program, visit https://medicine.hsc.wvu.edu/physician-assistant-studies/.