Arif R. Sarwari, M.D., honored as Dr. Edmund B. Flink Chair for the WVU Department of Medicine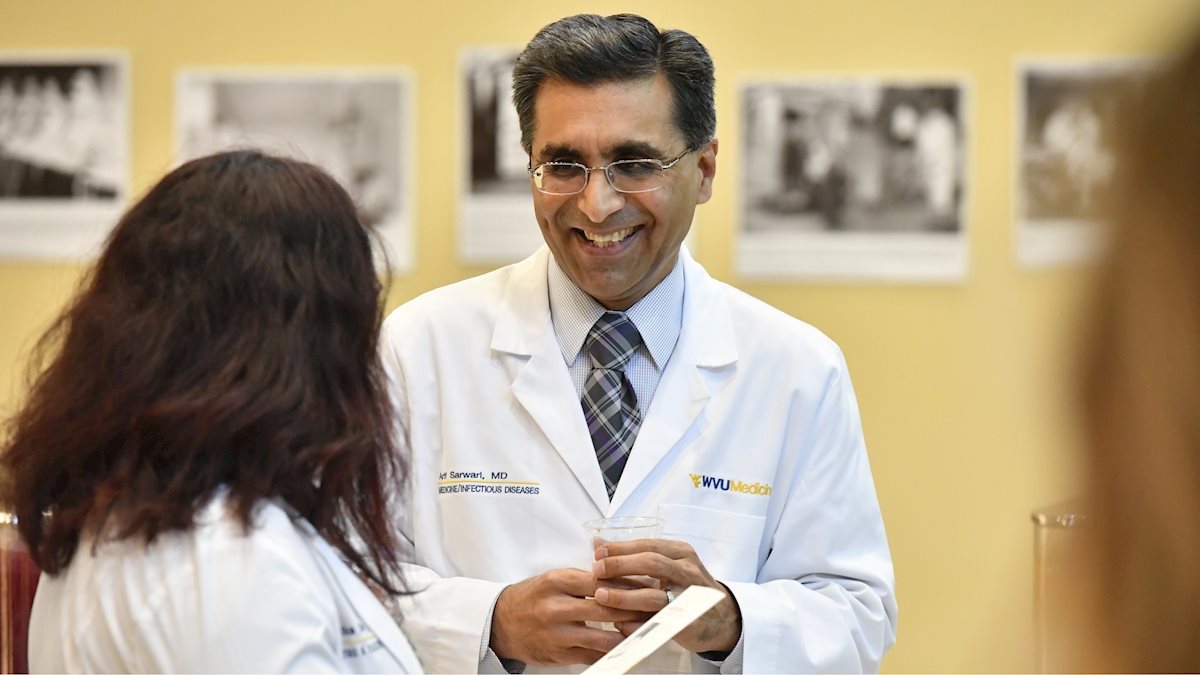 Arif R. Sarwari, M.D., chair of West Virginia University's Department of Medicine, has been named the recipient of The Edmund B. Flink Chair in the WVU School of Medicine.
The School of Medicine honored Dr. Sarwari during an investiture ceremony Monday, Dec. 3, where he was surrounded by his family, peers and WVU leadership.
"Today is about the Department of Medicine," Sarwari said during the ceremony. "Our Department takes care of the sickest of the sick, keeps our flagship hospital open to all transfers, and prepares the next generation of healthcare providers. We are the glue holding a complex structure together – cohesive, collaborative, compassionate members of the team."
Sarwari serves as an associate professor in the Section of Infectious Diseases in the Department of Medicine.
He earned his medical degree from Aga Khan University in Karachi, Pakistan, and completed his residency in internal medicine at WVU Medicine-WVU Hospitals, where he served as a chief resident. He also completed a fellowship in infectious diseases at the University of Maryland, as well as a master of science degree in epidemiology and preventative medicine.
Since returning to WVU as a faculty member, he completed a master's degree in business administration.
"Having a strong leader allows us to have a strong program -- attracting the best students, residents, fellows, and faculty to WVU," Clay Marsh, M.D., vice president and executive dean for WVU Health Sciences, said. "Dr. Sarwari's dedication and vision for the department and healthcare continue to inspire his team and others across the University community."
Dr. Marsh was joined by WVU President Gordon Gee, Provost Joyce McConnell, WVU Health System President Albert Wright, and Steve Farmer of the Hazel Ruby McQuain Charitable Trust.
The Edmund B. Flink Chair in the WVU School of Medicine was created in 1978 by a gift from Hazel Ruby McQuain. It was established to support a teaching chair position that memorializes the exemplary service rendered by Dr. Edmund B. Flink.
"After JW Ruby passed away, Hazel devoted the rest of her life to philanthropy. She looked around the community and decided first that she wanted to make gifts that would help the most people, and then that education and healthcare was the way to do that," said Stephen P. Farmer, a member of the McQuain Trust Board of Trustees. "In 1978, she made a gift that would honor Dr. Flink for providing such wonderful service to this community and to her family. I am blessed to be here talking about Hazel and JW Ruby. They were special people. I get to inspire people to be more like them and I get to look at folks like Dr. Sarwari and say thank you for everything that you do. Hazel would be very happy with your selection."
Hazel Ruby McQuain established a charitable trust which became a renowned WVU and community benefactor and continues to support programs at WVU and across the state. McQuain engaged in philanthropic endeavors of benefit to the University and local organizations for more than 20 years. She died in 2002 at the age of 93. The McQuains are recognized for more than $20,000,000 in total giving to WVU health sciences, the hospital and other clinical areas.
For more information visit medicine.wvu.edu.