School of Medicine offers research internships for Immunology and Medical Microbiology students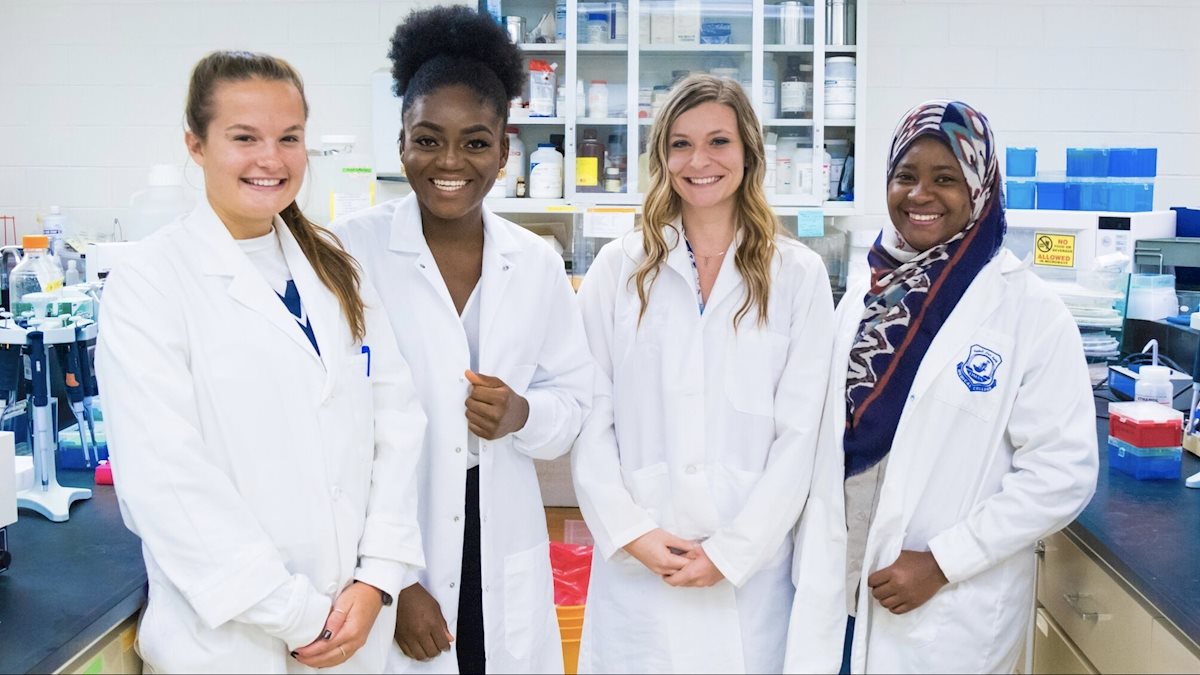 For undergraduate students, research may sound great in theory, but it may also seem mundane and repetitive. However, there are many practical benefits of doing undergraduate research and reasons why every student should at least try it. Research is directly connected with critical and independent thinking, creativity and most importantly, discovery. Essentially, all knowledge in every academic discipline comes from some sort of research.
Realizing the lack of research experience for undergraduates enrolling in science graduate programs, several universities nationwide are now offering numerous prestigious paid internships for undergraduate research. These internships offer an opportunity to gain valuable research experience and meet other students with similar backgrounds.
Last summer, four students in the Immunology and Medical Microbiology (IMMB) bachelor's degree program at West Virginia University were selected to participate in a research internship program offered by the department of Microbiology, Immunology and Cell Biology.
The Department offers internships of research-intensive training in the fields of microbiology, infectious diseases, immunology, neuro-immunology, vaccinology, cancer cell biology and molecular biology. Selected participants get the opportunity to work on research projects under the direction of a primary member of the faculty from the Department. The program supports four students each year. Interns join a laboratory the summer after the sophomore year and have two full years to develop and conduct an independent research project.
The internships, designed to provide long-term financial support for the selected students, provides invaluable experience and enhances their opportunities for success in graduate school, professional school, industry or government after graduation.
"The immunology internship has enabled me to complete research under the guidance of Jennifer Franko, Ph.D., and Rosana Schafer, Ph.D.," said Andrea Pettit. "While many research internships end with the completion of summer, the immunology internship allows me to work in the same lab for two years. This long-term outlook has given me in-depth exposure and a more realistic view into the world of research."
There are numerous benefits for undergraduate students who get involved in research. Research experience allows them to better understand published works, learn to balance collaborative and individual work, and determine their area of interest.
A direct benefit of research starts in the classroom. When investigating any phenomenon in class, it is useful to know how the original study was performed. By engaging in research firsthand, students find it easier to understand the rationale underlying others' research.
"My sole interest in public health and cancer is a major reason why I chose IMMB as a major and having the great opportunity to gain research experience in these areas was like a dream come true," said Osasenaga Benjy-Osarenkhoe. "I have gained a sense of independence as I get to perform experiments single handedly, analyze data, and interpret them. Effective communication is another skill this internship gives you, because you have to constantly communicate with others involved in your project or enlighten other researchers about your project in lab meetings. Mentoring is another great benefit that comes with this internship. In many situations, I find myself taking notes when my principal investigator, Dr. John Barnett, gives quality life advice that would very much help me in my future career."
Exposure to an area of research undoubtedly also helps students explore career fields. If one is considering research as a career path, experience in a research setting is invaluable. Additionally, the earlier students become involved, the more experience they attain, which enhances their career choice. Many students considering careers in medicine will also benefit greatly from exposure to research. Many medical schools value research experience for admissions. Perhaps more importantly, a solid basis in hypothesis-driven research is what evidence-based medical practice is built upon. Experience in this area can enhance an understanding of both the medical curriculum and the medical literature.
"As a pre-medical student, the opportunity to perform research that could directly impact the future of medicine meant a lot to me," said Courtney Amend, who is working in the laboratory of Dr. Edwin Wan. "The internship was not only a great resume booster, it was a fantastic learning opportunity that not many students can partake in. The internship taught me critical thinking skills that will be beneficial to my future education and life after college. I am extremely grateful for this opportunity, and know that it has molded me into a better student and scientist."
As a researcher, students get to read and understand primary literature. This is a skill needed not only for undergraduate courses but also for the career of a future health professional.
"Before I started the internship, I was thinking research is an impossible career path for me, but with the little I have done and am still doing, I think I will consider being a researcher," said Kaltume Usman Ndayako, working in the laboratory of Dr. Duaa Dakhlallah. "After I graduate, I am planning to pursue a master's degree in public health with a focus on epidemiology, and I feel this research training is setting me on the right track. I am from Nigeria, and we have tons of health issues going on. With the skills and discipline in research that I am acquiring, I will be able to improve and give other perspectives to developing countries to improve their health care systems."
Photo: From left to right: Andrea Pettit, Osasenaga Benjy-Osarenkhoe, Courtney Amend, and Kaltume Usman Ndayako.