Pathology Laboratory for Translational Medicine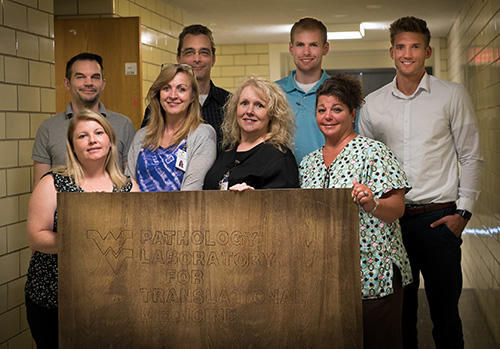 Pathology Laboratory for Translational Medicine: The Pathology Laboratory for Translational Medicine provides the research community with tissue bank and histology technical services necessary for growth and development of investigative research. This laboratory has continuously provided services to the WVU research community since 2002. The Directing Pathologist ensures the laboratory utilizes state-of-the-art techniques and oversees the laboratory functions. This laboratory is located within the Department of Pathology with approximately 2000 square feet of space in the Health Sciences North building.
The laboratory's Technical Specialist has over 15 years of experience and expertise in tissue banking, histology, Good Laboratory Practices and CLIA compliant laboratory management. The laboratory is further staffed by two full time pathologist assistants and a histotechnician. In addition, the laboratory is supported by the Department of Pathology Faculty Pathologists who provide specialty specific consultation to researcher's planning/design their protocols.
The services provided by this laboratory are essential to an institution upholding a status of high recognition nationally and internationally. At a time when new discoveries generated by basic biomedical research are applied to pathology practice, accessibility to the most modern tissue based methods becomes imperative. The following services are provided on a fee-for-service basis:
Histology Services:  A wide range of histopathology services for basic science and clinical investigators are provided:
Routine Histology – Routine formalin fixed tissue processing, cutting and hematoxylin and eosin staining are offered using automated equipment in an appropriate time frame with consistent quality. Special stains are also available based on the researcher's specific needs.
Immunohistochemistry – Automated formalin-fixed, paraffin embedded immunohistochemical staining, to evaluate tumor antigen expression profiles, is available via the Ventana DISCOVERY automated IHC Platform.
Tissue Microarray – TMAs allows for the rapid assessment of multiple tissue specimen on a single slide preparation. Tissue microarray preparation is facilitated via a Galileo TMA CK3500 Tissue Microarrayer
Interpretive services – The faculty pathologists are available assist the research community in correlating morphologic changes with biological phenomena.
Tissue Bank: The WVU Tissue Bank (WVUTB) collects a wide variety of normal, diseased and malignant tissue from surgical resections with IRB approval and patient consent. The WVUTB works closely with researchers needing customized tissue collection to meet their study goals. Skilled technologists work with surgeons, pathologists, and researchers to maximize the scientific value and quality of acquired tissues.Tissues are obtained fresh, snap frozen in liquid nitrogen, embedded in the cryopreservative O.C.T., and/or fixed in formalin and paraffin embedded. While the specimens are provided to researchers without any patient identifying information to maintain patient confidentiality, the researchers are provided with a patient summary (see below) that can be customized to meet a researcher's specific needs. The following information is available in this report:
Clinical and Tissue Data: mass, mode of preservation, time of acquisition, time of collection (etc.)
Patient information: Gender, age, and other non-identifiers
Cancer diagnosis and treatment information
Information on other major diseases
Social and Family history information if available
Diagnostic procedures/Tests
Radiology reports
Pathology reports
WVU faculty who have NIH funding have top priority for obtaining services. However, all WVU researchers, as well as those collaborating from outside institutions, can request tissue from the WVUTB for valid research purposes. The WVUTB technologists will work with each investigator to maximize the value of the tissue for a particular scientific study. http://medicine.hsc.wvu.edu/pathology/research/pathology-laboratory-for-translational-medicine/tissue-bank/

Pathology Laboratory of Translational Medicine mailing/shipping address:
Dr. James Coad c/o Jacquie Karakiozis
West Virginia University Path Lab for Translational Medicine
Room 2125 HSC-North, Mailstop 9203
64 Medical Center Drive
Health Services Center Receiving/Loading Dock
Morgantown, WV, 26506  USA
Phone 304-293-0287