Facilities
Program Education Facilities
The Ian W. Marshall Training Center was dedicated on May 5, 1995. It was established in memory of a WVU radiology resident graduate by his family and friends for the radiology residents.  A state-of-the-art conference room hosts daily resident midday conferences and meetings.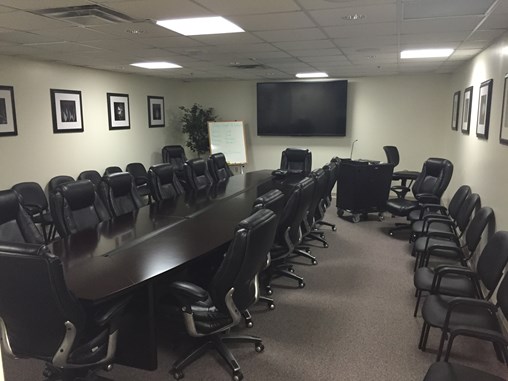 The conference room
The adjacent Clement A. Smith Radiology Library Classroom, another component of the Marshall Radiology Training Center, is the location where residents who elect to do so can become involved in supervised classroom instruction of medical students in our WVU School of Medicine's popular General Radiology elective. Resident teaching experiences using published Flipped Classroom Workshop resources (quite a few created in our department at WVU) have been the subject of AUR presentations year after year. Those applicants who are interested in a career that involves teaching will be interested in this opportunity at WVU.
Program Clinical Work and Learning Facilities
WVUMedicine clinical facilities are affiliated with the WVU Schools of Medicine, Nursing, Dentistry, Pharmacy, and Public Health. These provide a comprehensive Academic Health Center work and learning environment.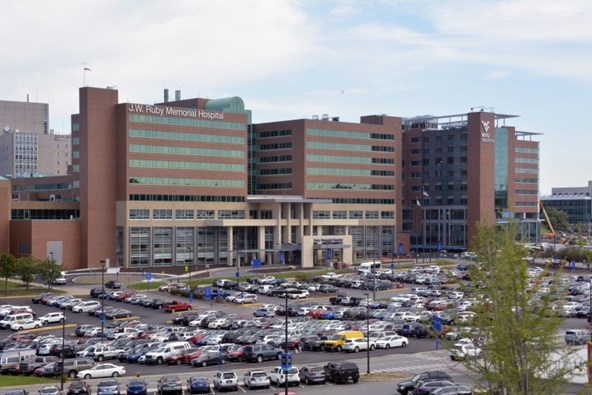 J.W. Ruby Memorial Hospital
J.W. Ruby Memorial Hospital and adjoining WVU Health Sciences Center are at the center of  the flagship campus of the WVUMedicine statewide network of integrated facilities. The 692 bed regional tertiary referral center houses state-of-the-art diagnostic and treatment facilities and incorporates the following components: 
Center for Advanced Imaging, providing PET and MRI imaging services and research resources and support
Betty Puskar Breast Care Center providing comprehensive breast care services including tomosynthesis, minimally invasive breast biopsies, and breast MRI.
WVU Children's Hospital, which provides comprehensive care for women and children. (Construction on the NEW 155 bed WVU Children's Hospital is scheduled to be completed in December 2020)
John Michael Moore Trauma Center, a Level 1 trauma center served by an emergency air transport system
Mary Babb Randolph Cancer Center is West Virginia's only comprehensive center for cancer care, prevention, and research.
The Physician's Office Center (POC) and University Town Center Clinic (UTC) comprise West Virginia's largest multispecialty group outpatient practice. The POC and UTC are operated by WVUMedicine
Chestnut Ridge Center, a 70 bed psychiatric hospital staffed by WVU School of Medicine's Department of Behavioral Medicine and Psychiatry
Mountain View Regional Rehabilitation Hospital, a private, tertiary facility providing care to persons disabled by accident, injury, illness, or congenital problems
WVU Hospital Child Development Center, which supports WVU Hospital employees by providing high-quality child care services on site.