Facilities
The Ian W. Marshall Training Center was dedicated on May 5, 1995. It was established in memory of a WVU radiology resident graduate by his family and friends for the radiology residents.  The training center contains a brand new state-of-the-art conference room which houses daily resident noon conferences and meetings.  This conference room contains "board room style seating" complete with leather office chairs.  A 70 inch TV hangs at the front of the room and is connected to the main computer on the lecture podium.  The computer is equipped with the latest version of lecture software, camtasia for recording lectures, and Apple TV for wireless streaming of content.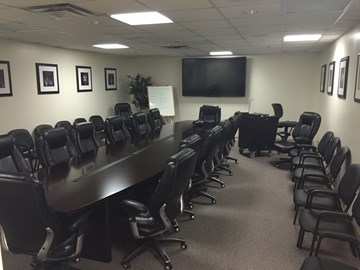 The newly renovated conference room

The adjacent Clement A. Smith Radiology Library, another component of the Marshall Radiology Training Center, houses a large collection of current Radiology texts, journals, and audiovisual programs.  This library is also newly renovated with leather furniture, multiple computers, and a 70 inch TV.

The clinical facilities are those provided through the hospitals and clinics affiliated with the Robert C. Byrd Health Sciences Center and Ruby Memorial Hospital. The Robert C. Byrd Health Sciences Center houses the WVU Schools of Medicine, Dentistry, Pharmacy, Nursing, the Family Medicine Center and Dental Services.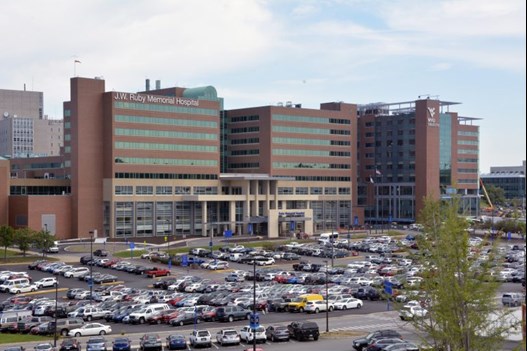 Ruby Memorial Hospital
The Radiology reading rooms, resident call room, and IR suite are located within Ruby Memorial Hospital which is a 531 bed state-of-the-art diagnostic and treatment facility and referral center, and incorporates the following: 
WVU Children's Hospital, which provides comprehensive care for women and children.

The John Michael Moore Trauma Center, a Level 1 trauma center served by an emergency air transport system

WVU Hospital Child Development Center, which supports WVU Hospital employees by providing high-quality child care services on site.

Mary Babb Randolph Cancer Center is West Virginia's only comprehensive center for cancer care, prevention, and research.

Chestnut Ridge Hospital, a private 70 bed psychiatric hospital staffed by WVU School of Medicine's Department of Behavioral Medicine and Psychiatry

Mountain View Regional Rehabilitation Hospital, a private, tertiary facility providing care to persons disabled by accident, injury, illness, or congenital problems.

The Physician's Office Center (POC), West Virginia's largest multispecialty group practice. The POC is owned by University Health Associates (UHA), WVU's faculty practice plan.

Center for Advanced Imaging, providing PET and MRI imaging services.

Betty Puskar Breast Care Center providing comprehensive breast care services including MRI and minimally invasive breast biopsies.