About Us/ Program Description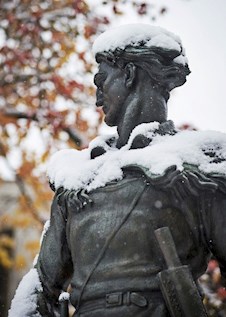 The Clinical Psychology Internship Program has been accredited by the American Psychological Association since 1972, and in 2018, received a ten year accreditation. The WVU School of Medicine, Department of Behavioral Medicine and Psychiatry, located at Chestnut Ridge Center, sponsors the 12- month doctoral internship. The program emphasizes strong mentorship and training in assessment and intervention from an evidence-based, primarily cognitive-behavioral orientation. Interns gain clinical experience with patients representing a broad range of presenting problems in both inpatient and outpatient treatment settings. A variety of didactic and research opportunities are also provided.
American Psychological Association Commission on Accreditation Contact:
Office of Program Consultation and Accreditation 
750 First St, NE 
Washington, DC 20002-4242
Telephone: (202) 336-5979 
TDD/TTY: (202) 336-6123 
Fax: (202) 336-5978 
Website: http://www.apa.org/ed/accreditation/index.aspx
Additional Associations:
Our program is also a member of Council of Clinical Health Psychology Training Programs (CCHPTP). The purpose of CCHPTP is to promote the advancement of graduate and postgraduate education and training within the field of clinical health psychology.  Consistent with this purpose, CCHPTP member programs strive to educate and train future clinical health psychologists to promote human welfare and to advance the growth of health psychology science and practice.  CCHPTP espouses graduate and postdoctoral education and training that produces a clinical health psychologist capable of functioning as a scientific investigator and as a practitioner, consistent with the highest standards of clinical health psychology. 
Training Goal
The overarching goal of the internship is to prepare our trainees for the independent practice of psychology in a variety of settings, including medical or academic medical centers, university psychology departments, and primary clinical settings that offer inpatient and/or outpatient services. With this goal in mind, we strive for interns to achieve intermediate to advanced competency in domains related to the practice of health service psychology in order to practice independently. Preparation for independent practice includes integration of science into practice, understanding of and sensitivity to cultural and individual diversity, adherence to ethical standards, provision of supervision and teaching, and developing professional identity as a psychologist.
Strengths of the program include:
Training for the Future of Healthcare
We recognize the ever-changing nature of healthcare; medical systems are becoming increasingly integrated and team-based with a focus on outcome measures and evidence-based care. We seek to train our interns to have the skills necessary to navigate these changes successfully to become future leaders in the field. For this reason, we offer supervision in the provision of care of comorbid psychological and medical conditions, a variety of behavioral medicine rotations, training in consultation and working within multidisciplinary teams, didactics/ seminars focused on development of skills in program evaluation/ quality improvement, grant writing, and training in supervision.
In-Depth Supervision and Commitment to Training
The internship supervisors maintain a close tutorial and supportive relationship with the interns; at the same time, we encourage interns to function more independently as they make the transition from graduate student to professional psychologist. We follow a junior colleague/ apprenticeship model of supervision in which the interns work side-by-side with their supervisors during their rotations.
Individually Developed Training Plan
The experiences offered at WVU emphasize comprehensive training and also provide flexibility in that trainees can select different areas of focus, i.e., behavioral medicine, neuropsychology, etc. We are able to design and tailor an individual training plan for each intern to meet needs.  Additional minor rotation are also required and designed to complement the major rotations, which further add to the breadth and depth of training experiences.
Additional information:
The internship begins July 1st. Orientation occurs approximately two weeks prior to the start date. Interns are expected to attend and will be compensated for this activity.