Fellowships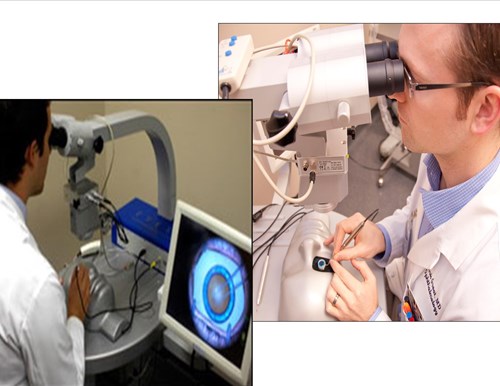 Cornea Fellowship
WVU Eye Institute offers a one-year fellowship position in cornea and external disease. As a referral center for the state of West Virginia, southwestern Pennsylvania, southeastern Ohio, and western Maryland, there is a tremendous amount of complex corneal disease managed at the Eye Institute. There are currently three attending corneal specialists at the Eye Institute; Lingo Lai, MD, Annahita Amireskandari, MD, and Thomas Mauger MD.
Learn more about the cornea fellowship.
Glaucoma Fellowship
Welcome to the Department of Ophthalmology Glaucoma Fellowship program at West Virginia University. Our one-year glaucoma fellowship program provides an advanced level of subspecialty training in the diagnosis and management of medical and surgical disorders. The program is under the direction of Dr. Tony Realini.
Learn more about the glaucoma fellowship.
Ophthalmic Plastic Surgery Fellowship
West Virginia University is proud to have one of the few ophthalmic plastic surgery fellowships in the United States. This fellowship is a two-year program, fully accredited by the ACGME. The West Virginia University Eye Institute is the only tertiary eye center in West Virginia and draws patients from around the state and the surrounding areas. Dr. John Nguyen directs this comprehensive service package and geographical catchment area to provide a great range of pathology, allowing an excellent educational experience.
Learn more about the ophthalmic plastic surgery fellowship.
Vitreoretinal Fellowship
The Eye Institute at WVU offers a two-year combined medical and surgical fellowship training in vitreoretinal diseases.  The fellowship program begins on July 1 of each year and accepts one fellow per year.

The Eye Institute is a university-based practice that provides comprehensive clinical care for the management of complex diseases and access to various clinical trials as a major referral center.  The Retina Division treats over 7000 patients each year from the entire state of West Virginia as well as the surrounding three states. Dr. Ghassan Ghorayeb directs the vitreoretinal fellowship program.