Students
Medical students are invited to explore the rewarding career of ophthalmology at the WVU Department of Ophthalmology and Visual Sciences. Under the guidance of our excellent faculty members you will learn all the aspects of eye care.
Our department offers a four-year residency program with an integrated first year/transitional year along with fellowships in cornea, glaucoma, oculoplastics, and retina. Our research department is nationally recognized and there are many clinical trials that are being conducted by our faculty.
Our mission is to improve the vision quality and prevent blindness throughout the country by state-of-the-art diagnosis and treatment techniques, education and research.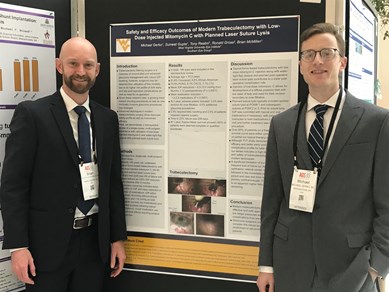 Medical student, Michael Gerbo, accompanied WVU Eye Institute faculty, Dr. Brian McMillan to Washington DC for the American Glaucoma Society Annual Meeting for 2020. Gerbo was a part of a team whose presentation received national attention.
Ophthalmology Interest Group
The Ophthalmology Interest Group exposes medical students to the field of ophthalmology by promoting interactions with patients and doctors, observation and shadowing opportunities, slit-lamp training, and surgical simulator training. Students will also have the opportunity to conduct eye exams on one another. Students will thus be more competitive in their residency applications for ophthalmology.
OIG 2022-2023 Student Officers
President: Omar Sadat, MS4
Vice President: Ahmed Amer Zanabli, MS4
Treasurer: Stephen Chen, MS3
Secretary: Amal Khan, MS2
To learn more about the practice of ophthalmology, visit the American Academy of Ophthalmology website here for detailed information on what to expect, subspecialties and residency programs.
Ophthalmology Rotations for Medical Students
Medical students interested in ophthalmology will have the opportunity to increase their knowledge in this area of medicine by participating in various rotations.
MS1 — First-year medical students may shadow faculty in different subspecialties of ophthalmology and will also participate in an indirect ophthalmology workshop as part of the Physical Diagnosis and Clinical Integration course (PDCI:1).
MS3 — During the third year, students may participate in a surgery clerkship for one or two weeks to improve examination skills, ophthalmic fund of knowledge and surgical techniques.
MS4 — Students may choose one of two ophthalmology rotation tracts. The Future Ophthalmologist tract is a four-week rotation geared toward medical students planning to participate in the upcoming ophthalmology match process. This rotation is an immersive rotation where students become a close part of the department and will have the opportunity to present during grand rounds. Students planning to enter other fields may choose the Non-ophthalmology tract. This is a two-to-four-week rotation aimed at helping students gain examination skills and experience that will benefit them in their future practices.