Students
 Medical students are welcomed to explore the rewarding career of ophthalmology. Under the guidance of our faculty member you will learn all the aspect of eye care.
Our department offers a three year resident program along with fellowships in cornea, retina, plastics, and glaucoma.  Our research department recognized all around the country and there are many clinical trials that are being conducted by our faculty.
Our mission is to improve the vision quality and prevent blindness through out the country by state of the art diagnosis and treatment techniques, education, and research.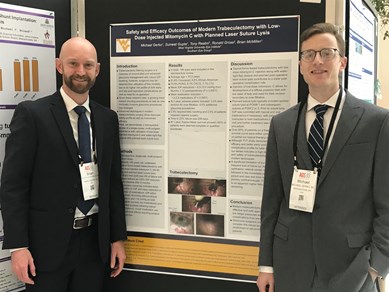 Medical student, Michael Gerbo, accompanied WVU Eye Institute faculty, Dr. Brian McMillan to Washington, DC for the American Glaucoma Society Annual Meeting for 2020.  Gerbo was a part of a team whose presentation received national attention.