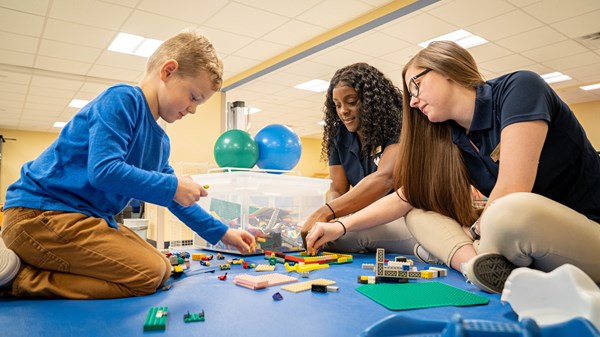 Classroom, community and clinical experiences that develop competence and confidence.
Our unique curriculum prepares students to practice in the exciting rehabilitation field of occupational therapy. Occupational therapy students at WVU receive the benefits of hands-on classroom, community and clinical experiences that develop the competence and confidence necessary to achieve career goals.
As part of the School of Medicine, occupational therapy students have access to an abundance of inter-professional learning activities as well as educational resources that include:
Cutting edge acute care simulation lab
Anatomy lab cadaver dissection
Faculty practice clinic
Current tools for assessment and intervention
Who you are
A helper. A healer. A core member of the care team. Occupational therapists help people function in all of their environments including home, work, school and community through the use of therapeutic everyday activities. In addition, occupational therapists address the physical, psychological and cognitive aspects of their well-being through patient engagement.
Common occupational therapy interventions include:
Helping children with disabilities to participate fully in school and develop social skills
Help people recovering from injury to regain function through retraining or adaptations
Providing supports for older adults experiencing physical and cognitive changes
Modifying environments to support home and community independence and life satisfaction
Our faculty
Masters- and doctoral-level faculty are clinical experts with extensive professional publications along with state, national and international presentations.
What you'll do
Our graduates find employment almost anywhere in the world. You will find our alumni working in
Schools
Hospitals
Rehabilitation centers
Home health agencies
Skilled nursing homes
Private practice
Research facilities
Connect with Us
Stay connected with what's happening at the School of Medicine.
Accreditation
The Accreditation Council for Occupational Therapy Education (ACOTE®) is an Associated Advisory Council of the Executive Board of the American Occupational Therapy Association (AOTA®). ACOTE® is recognized as the accrediting agency for occupational therapy education by both the United States Department of Education (USDE) and the Council for Higher Education Accreditation (CHEA). ACOTE is also an active member of the Association of Specialized and Professional Accreditors (ASPA). ACOTE currently accredits or is in the process of accrediting nearly 600 occupational therapy and occupational therapy assistant educational programs in the United States and its territories as well as programs in the United Kingdom.