About Us
Providing expert training and excellent patient care
Welcome to WVU Otolaryngology
A message from the Chair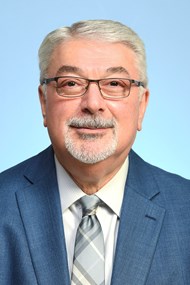 The Department of Otolaryngology at West Virginia University is proud to serve the Mountain State and surrounding areas with expert care for all conditions related to ear, nose, and throat. Our department currently consists of 18 faculty members, 7 advanced practice providers, and 8 Audiologists that provide services and care for the entire spectrum of otolaryngology specialties. All our subspecialists are fellowship trained and provide the most recent advanced surgical techniques for treatment of complex disorders of the Ears, Nose, Throat, & head & neck.
Our department provides comprehensive patient care by Board Certified physicians in all subspecialty areas of Otolaryngology, including Otology, Robotics surgery, Allergy/Rhinology, Laryngology, Pediatric Otolaryngology, Head & Neck Oncology and reconstructive surgery, Thyroid and Parathyroid disorders, Sleep disorders, Plastics, & Skull base surgery.
One of the hallmarks of our department is experience, with seven of our physicians having been in practice for more than 15 years each. In addition, WVU Medicine provides the most up-to-date medical equipment, to help us stay at the forefront of medical care. The combination of experienced physicians, fellowship trained physicians, and advanced medical technology results in excellent patient care.
As a constantly expanding department, we now provide quality care at a variety of locations. Our main office is located in the Physician's Office Center, adjacent to Ruby Memorial Hospital in Morgantown. We also have satellite offices at the Suncrest Town Center in Morgantown, as well as a clinic in Fairmont, and another one in Uniontown. We also provide patient care services at the VA Medical Center in Clarksburg. 
In addition to superb patient care, our department also provides excellent educational training for residents who desire to become board-certified Otolaryngologists. We afford our residents, as well as medical students training at WVU with top-notch educators and educational experiences. The combination of excellent teachers, experienced clinicians, fellowship trained providers, and state-of-the art technology creates a highly successful learning environment for our students and residents.
Lastly, many of our faculty and all of our residents are actively engaged in research & quality improvement projects that help us constantly improve our patient care in both the hospital and clinical settings. Several faculty members are also involved in several innovative clinical trials.
Hassan Ramadan MD, MSc, FACS, FARS
Stephen and Patricia Wetmore Chair of Otolaryngology
Professor Department of Otolaryngology Head & Neck Surgery
West Virginia University