Research
Sensory Neuroscience Research Center
PO Box 9303
Morgantown, WV 26506-9303
Current full-time members of the Department's research group include George Spirou, PhD, Director of Research, Albert Berrebi, PhD, and Peter Mathers, PhD.
In the year 2000, the Department's four full-time research scientists joined with members of other departments to form the Sensory Neuroscience Research Center after obtaining a Center for Biomedical Research Excellence (COBRE) grant valued at $8 million over five years. In 2005 the COBRE grant was renewed for five more years for $10 million. In October 2010, we received an additional 5 million dollar COBRE grant.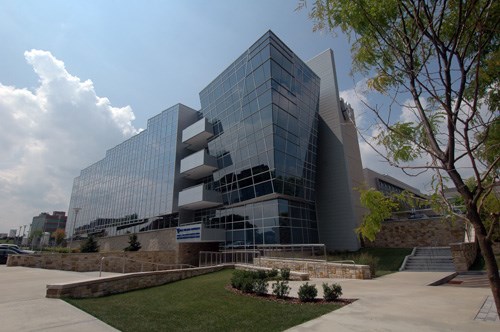 Dr. Spirou is not only the director of the Sensory Neuroscience Research Center, but he is also the director of the whole Neuroscience Center, which is a multidisciplinary research area involving approximately 30 scientists.
Many of our faculty members conduct ongoing research projects. Dr. Hassan Ramadan,  Department Chair, works with several of the department's residents each year investigating areas related to sinusitis. Dr. Stephen Wetmore, Professor, and Dr. Kazunari Koike, conduct research projects in the areas of otology, balance and dizziness.
Each resident is expected to do a bench type research project during the PGY-3 year. Four months are set aside for this research project. Some residents have started completely new research projects while others have continued projects begun by prior residents. Current areas of interest include the study of biofilms in otitis media, in sinusitis, and in the oral cavity in the cancer patients, the evaluation of drugs that prevent ototoxicity, and evaluating patients undergoing ventilating tube insertion for evidence of gastric reflux.
In addition to the three-month research blocks that are set aside for the PGY-3 residents, the residents at the other levels are expected to perform either a clinical or a basic science research project each year. The results of these projects are presented at our annual alumni conference each June. Monetary prizes are awarded for the best projects in several areas.