Research
The faculty in the Division of Physical Therapy are active in scholarship across the spectrum from discovery and invention to knowledge translation and outcomes assessment.  As seen in the graphic below, these activities are interrelated and move fluidly from the laboratory to the clinic/hospital and to the community setting.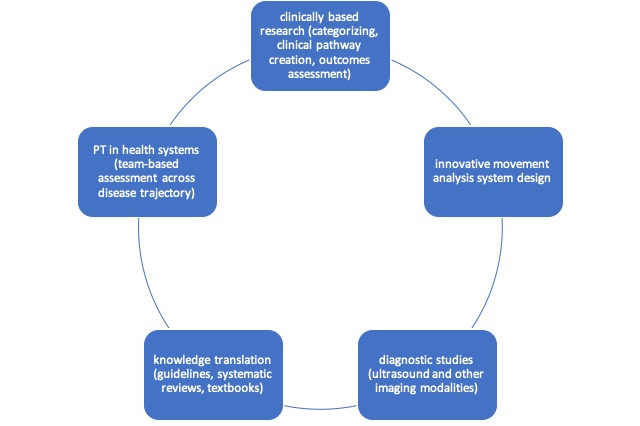 All faculty members have active scholarship agendas and collaborate in interdisciplinary programs with faculty in other departments and centers within WVU as well as researchers in other universities nationally and internationally.
The Division's faculty are principal investigators and project leaders in clinical and laboratory research that is funded by federal, state and philanthropic sources.  This funding has been consistent and currently totals nearly $2 million.
Current scholarly projects are diverse in topic and can be categorized into several types.  As seen in the graphic below, however, they all focus on the mission to improve the movement-related health of the citizens of West Virginia.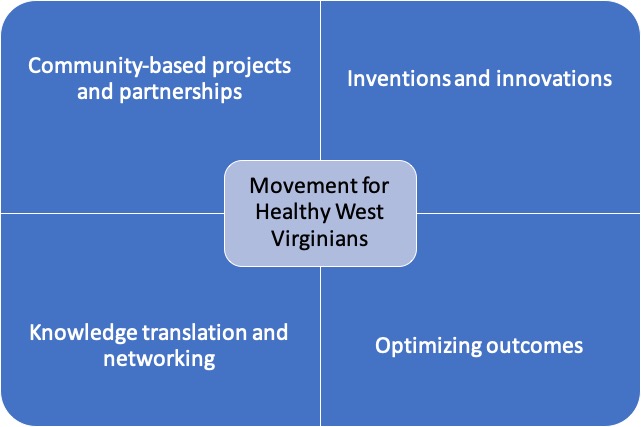 Examples of current projects in each area include:
Community:
Fall prevention programming through places of worship and senior centers
PT for addressing the opioid epidemic in rural communities
Rehabilitation needs of cancer survivors in rural Appalachia
Stress and sleep hygiene in college students
Inventions & innovations:
Motion analysis in stroke—custom designed systems & adapting home-based movement training
Computer-brain interface for design & control of upper extremity prostheses (disabled veterans)
Creating rehabilitation protocols after device implantation (brain, spinal stimulators, cardiac)
Ultrasound imaging diagnosis & management of tendon injury (foot/ankle complex, radiation fibrosis)
Determining balance consequences of chemotherapy-induced peripheral neuropathy
Designing & testing a device to measure hand intrinsic muscle strength
Knowledge translation & networking:
Core outcome measure education & integration (vestibular)
Clinical practice guidelines development & dissemination (CF, foot/ankle, LBP, BMT)
Integrating standard assessments across health system (cancer, ECMO/PICS survivorship, CF care)
Psychologically-informed practice for pain (LBP, cancer)
Defining & measuring PT student readiness and core competencies (clinical education, simulation)
Optimizing outcomes:
Adoption of treatment-based classification systems for back pain
Adapting brain injury self-management strategies for persons recovering from opioid addiction
Integrating early mobility in ICU for reducing long-term complications of critical illness
Defining PT as the mobility navigator for persons with cancer
Students at many levels from undergraduate to DPT and PhD are involved in the Division's scholarly activities.  One unique aspect of our research program is the involvement of all entry-level DPT students in faculty projects. This hands-on experience in diverse and important research programs benefits the students, who gain valuable experience working alongside faculty members, and who become well-educated consumers of research for future clinical practice. Several of our students have become inspired to pursue research degrees and careers based on their experience as students.
For more information about scholarship in the Division of Physical Therapy, contact the Director of Scholarship, Dr. Anne Swisher PT, PhD, FAPTA at aswisher@hsc.wvu.edu
Last update November 28, 2020