WVU's Hand Therapy program grows, increases care capacity and educational perks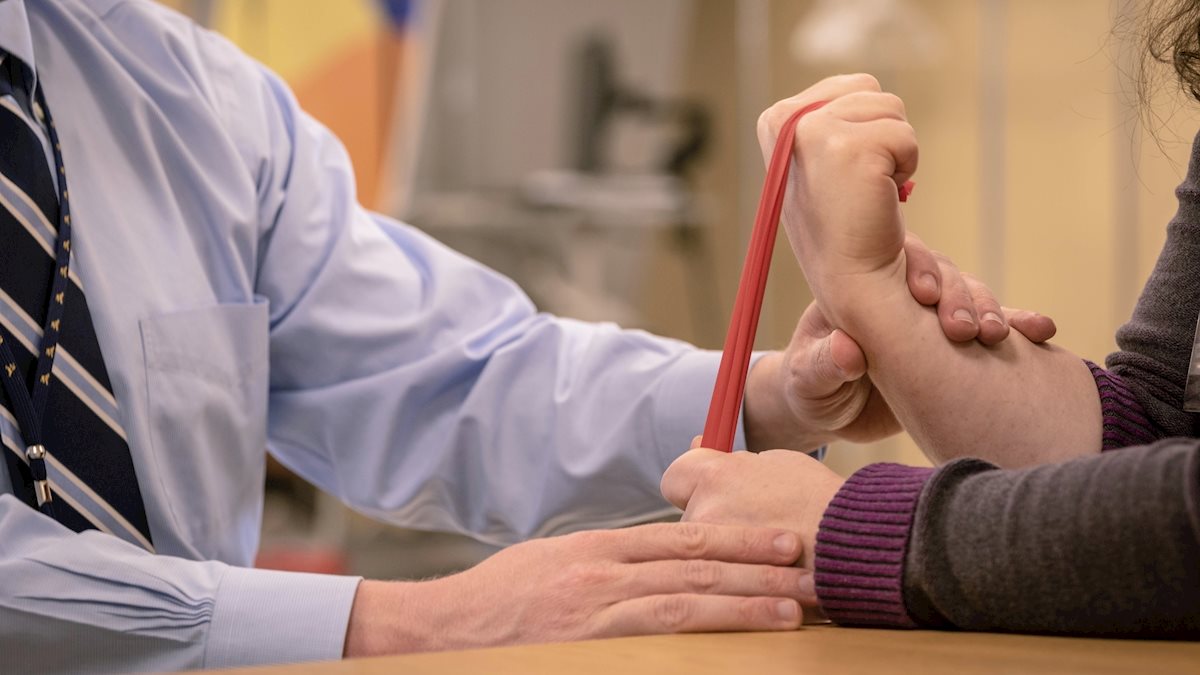 A specialized program at the West Virginia University School of Medicine that helps patients restore, adapt or recover use of their hands is growing with the addition of new a new faculty member.
Brandon "Seth" Powers, MOT, OTR/L, CHT, joins Carol Waggy, PT, Ph.D., CHT, as a certified hand therapist in the program, increasing the overall capacity to see more patients, improve quality of care and offer more training opportunities for students enrolled in the Occupational Therapy program and the orthopedic residency program in Physical Therapy.
The program's expansion comes at an opportune time – Waggy noted an influx of orthopedic and plastic surgeons at WVU Medicine who specialize in treatment of the hand and wrist, which ensures the program is in demand.
Traditionally, the hand therapy program closely works with post-operative patients from all over the state who undergo surgery at J.W. Ruby Memorial Hospital in Morgantown for traumatic hand injuries involving fractures, or soft tissue injuries, and following surgical intervention for arthritic conditions of the hand and wrist.
The wide variety of patients with complex cases not only keeps the hand therapy team sharp, but also allows students to learn from broader experiences presented in the classroom.
According to Waggy, one of the strengths of the program is the fact hand therapy is multi-disciplinary – physical therapists and occupational therapists can both become certified hand therapists.
Adding another certified hand therapist to staff not only adds to greater patient capacity, but also an additional training background to draw upon.
"Traditionally physical therapists deal more with restorative function, whereas occupational therapists focus on adapting and helping people overcome limitations," Waggy said. "Our program can utilize both approaches to help a wider variety of patients – it's not just limited to orthopedic surgeries. We can see patients referred by family medicine and internal medicine for hand and wrist issues, rheumatologists for treatment of common osteoarthritis, and more.
"It's an extremely rewarding career. Mixing patient care with teaching lets you witness the best moments of both – there are patients that follow up and update you on their recovery and are thankful to gain function back. On the other side, I get to inspire the next generation of professionals who find the insight, experience and education valuable," Waggy said.
Bringing Powers, who also teaches, to the program is also a benefit for students in the WVU School of Medicine.
"Our students receive a multi-disciplinary approach to therapies and the theories behind what can help a patient have a breakthrough in any given scenario," said Mary Beth Mandich, Ph.D., PT, vice-dean of Professional and Undergraduate Programs and chairperson of Physical Therapy. "Carol and Seth have already established a professional rapport and we're looking forward to seeing this program become more robust to meet a bigger demand for their services from providers and students alike."
Waggy, who emphasized her pride in being loyal to WVU, received both her undergraduate degree in physical therapy and her doctorate degree in anatomy from WVU. She has been a certified hand therapist since 1993.
Powers received his certified hand therapist credential in 2014 and attended WVU for his undergraduate and graduate degrees.