BioTek Synergy H4 Plate Reader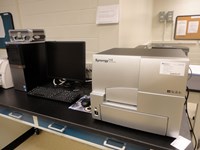 Synergy H4 is a multi-mode, single channel microplate reader that has the capability to detect Fluorescence Intensity, Fluorescence Polarization, Time-Resolved Fluorescence, Luminescence and UV-Visible Absorbance.
Synergy H4:
Uses a combination of monochromator , filters, and dichroic mirrors
Filter-based system uses 2 light sources for fluorescence

A tungsten halogen lamp
A xenon flash

Top and bottom probes for fluorescence
Top-only probe for the filter-based system
Absorbance uses monochromator optics

Wavelength selection from 230-999nm in 1nm increments
Xenon lamp allows for both UV and visible light absorbance measurements

Microplate sizes

6-, 12-, 24-, 48-, 96-, 384-, 1536-well sizes
Access to the Synergy H4 Plate Reader requires a short training session and approved access to the room. Please contact Paolo Fagone at pafagone@hsc.wvu.edu or 3-7728 for more information.