History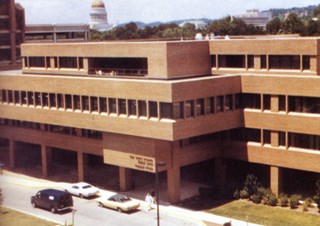 Charleston—West Virginia's capital and largest population center—faced a medical crisis in the 1970s. The medical community was graying and no local medical school was available. West Virginia University had a problem, too: its medical school and other health professions programs were growing to a point where the campus teaching hospital could no longer accommodate the number of students who needed clinical training.
Community leaders, physicians, and elected officials in Charleston developed an innovative solution: the Charleston Division of WVU. In 1972, this was the first regional health sciences campus opened by any University in the country. Over the past three decades, it's grown from a minor outpost to a full-fledged hub that annually educates 500 students and treats 250,000 patients in partnership with our teaching hospital, Charleston Area Medical Center (CAMC).
As part of the state's land-grant institution, our mission is to educate the next generation of healthcare providers, advance research, and improve the health of our state's citizens. We do this by bringing WVU's knowledge and expertise to Charleston and to residents of the state's underserved southern region to improve the delivery of healthcare.
Today, the Charleston Division faces unprecedented challenges in carrying out this mission due to decreased state and federal funding and decreases in health insurance reimbursement. To meet these challenges and create a healthier West Virginia, we need to bring together many minds—the ideas and intellect of students and faculty. Continued philanthropic support will ensure the continuation of our commitment to the health of our neighbors and economic well-being of the citizens and state.
The Trajectory of Success
What began as an attempt to meet some unmet needs of healthcare in southern West Virginia has resulted in the availability of premium healthcare delivery at the Health Sciences Center in Charleston. We deliver interdisciplinary healthcare and training, while housing divisions of the WVU School of Medicine, School of Nursing, School of Pharmacy, as well as CAMC Nurse Anesthesia and the regional office of the School of Osteopathic Medicine. The School of Medicine Charleston Division includes Behavioral Medicine & Psychiatry, Family Medicine, Internal Medicine, Obstetrics & Gynecology, Pediatrics, and Surgery. Our campus hosts the Central Area Health Education Center of West Virginia, the Poison Center of West Virginia, and one of the oldest nurse anesthetist programs in the country.
Some 100 University faculty and 400 community professionals who serve as clinical faculty provide training and oversight to our students. Each year more than 60 medical students and 140 residents are in Charleston.
The School of Pharmacy faculty members participate in interdisciplinary practices in family medicine, geriatrics, pediatrics, and poison information and toxicology. Typically, 30 pharmacy students select the Charleston campus as the hub for their rotations.
The WVU School of Nursing pioneered distance education for nurses who want to advance their careers while remaining at work in their communities. Recently, the Charleston Division School of Nursing became one of the first four sites nationally to be awarded accreditation for the doctorate of nursing practice degree.
The Charleston campus is singularly effective in producing nurse practitioners who deliver primary care to rural southern West Virginia. Through CAMC—one of only two Level 1 trauma hospitals in the state—WVU Health Sciences Charleston offers leading-edge care in endovascular, colorectal, pancreatic, pediatric, and robotic surgery.
As a state, West Virginia faces significant disparities in conditions such as obesity, diabetes, heart disease, and cancer. Our faculty and students are well positioned to change these statistics. With your support through endowments and other gifts we can expand our children's health programs, residency program, faculty development, and other offerings that advance healthcare in our region.