Project CHASM
Charleston Homeless and Street Medicine (Project CHASM)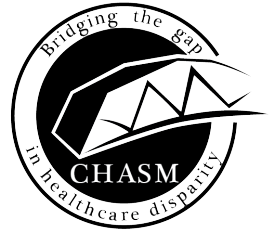 Project CHASM (Charleston Homeless And Street Medicine) is a non-profit organization composed of multidisciplinary healthcare providers who seek to serve the medical needs of the homeless community in Charleston, WV.
We are modeled after Project Safety Net in Pittsburgh, PA and MUSHROOM (Multidisciplinary Unsheltered Homeless Relief Outreach of Morgantown) in Morgantown, WV.
Our organization unites medical, pharmaceutical, social work and other dedicated community volunteers on "street rounds". We go by foot to those places where we are needed most: along the Kanawha river, under bridges downtown, and in the local homeless shelters.
Our Mission
Setting out on foot, Project CHASM will strive to seek out the homeless, bridge gaps, & break down barriers to ensure that all members of our community have access to basic medical needs and are treated with the human dignity & respect that everyone deserves.
Our Goals
We will…
Provide opportunity for doctors, nurses, pharmacists, social workers, students, & community allies to come together to fulfill our common ideals.
Seek to become familiar faces - developing meaningful relationships with our patients & providing continuity of care
Care for each individual in their entirety, providing not only medical needs, but also steps to a healthier lifestyle.
Advocate shared decision-making, considering the opinions of our patients & molding each healthcare plan to fulfill their individual needs.
Walk to where they live & meet them on their terms
Treat each individual as a human being, with the dignity & respect that we each deserve.
Provide care without discrimination, accepting people from all walks of life.
Maintain a standard of healthcare that we ourselves would be happy to receive.
Believe that those we serve have the ability to live their own lives & make their own decisions. We will remain fully open to them as they consider their actions.
Provide care in a manner that is suitable to their individual situations
Uphold a standard of conduct befitting those of our professions.
Strive to make Charleston a healthier community.