Spine
We provide comprehensive diagnosis and pain management of spinal problems, such as herniated discs, pinched nerves, neck pain, and low back pain. We work with the patient to determine the best course of action, whether it's surgery or non-operative management of the problem.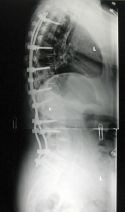 Our goal is to alleviate pain and restore function. Our physicians have easy access to specialists in other disciplines who can help tailor a course of treatment to each patient's specific needs. We also have specialized x-ray equipment that is used to guide spinal injections.
Our surgeons have extensive experience in the treatment of spinal degenerative diseases (such as lumbar and cervical spinal stenosis) and traumatic disorders and deformity (scoliosis, kyphosis). We use minimally invasive techniques — such as a new spinal fusion technique — to treat a variety of conditions, including vertebral compression fractures. These techniques shorten the time patients spend in the hospital and speed recovery time.
 Procedures also include:
Therapeutic spinal injection
Vertebroplasty and discography
Spinal fusion surgery
Spinal stenosis
Thoracic, cervical, and lumbar surgery
Oncology
Inflammatory arthritides
Our Spine Center offers a full range of services for neck and back problems, including surgery and conservative measures. Our multidisciplinary approach includes neuro-rehabilitation, a specialty that combines neurology and rehabilitative medicine. Our experts provide evaluation, management, and rehabilitation of neurological and orthopaedic problems related to the neck and back. We offer preventive and conservative management for patients with a wide variety of problems.
The Spine Center is operated jointly by the departments of Orthopaedics and Neurosurgery.
Faculty
Sanford E. Emery
,
MD, MBA
West Virginia University
Position

Chairman; Professor, Orthopaedics

Phone

304-293-1170
John C. France
,
MD
West Virginia University
Position

Chief, Spine Service; Professor and Vice Chairman, Orthopaedics

Phone

304-293-3900
Shari Cui
,
MD
West Virginia University
Position

Assistant Professor, Orthopaedics

Phone

304-293-2779
Scott Daffner
,
MD
West Virginia University
Position

Associate Professor, Orthopaedics

Phone

304-293-2779