Reach Out and Read Program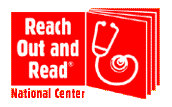 The WVU Department of Pediatrics Reach Out and Read (ROR) Program is one of 14 such programs in the state of West Virginia.
The goal of the program is for Pediatricians and other clinicians to be trained in the three part ROR model in an effort to promote pediatric literacy. The three parts are:
At every well-child check-up, doctors and nurses encourage parents to read aloud to their young children, and offer age-appropriate tips and encouragement. Parents who may have difficulty reading are encouraged to invent their own stories to go with picture books and spend time naming objects with their children.
Providers give every child between the ages of six months and five years a new, developmentally appropriate children's book to keep.
In literacy rich waiting room environments, often with volunteer readers, parents and children learn about the pleasures and techniques of looking at books together.