Plastic Surgery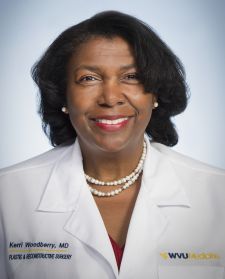 Kerri Wodberry MD, MBA, FACS
Program Director

Message from the Program Director:
Welcome to the Division of Plastic and Reconstructive Surgery at West Virginia University School of Medicine. We are committed to providing the highest quality of care for our patients with an emphasis on patient safety and compassionate care. We have an excellent team of physicians and healthcare providers who are experienced and passionate about teaching. It is our goal to educate our patients about their disease processes and treatment options and to advocate for our patients throughout the state and region. We remain on the forefront of cutting-edge treatments, while promoting research and innovation in surgical techniques.
Our goal is to restore form and function for a broad range of patients who seek surgery for reconstruction after breast cancer, skin cancer, lower extremity trauma, hand trauma, and facial trauma. In addition, we treat congenital differences, craniofacial abnormalities, cleft lip and palate, hand surgery, complex wounds, cosmetic and reconstructive surgery of the breast for breast reductions, breast lifts and breast implants, cosmetic surgery of the face including Botox and fillers, and body contouring after weight loss.
We promote diversity, equity and inclusion and strive to provide a safe and supportive environment as we advocate for patients of all backgrounds.
We look forward to meeting you.
Kerri M. Woodberry, MD, MBA, FACS
Division Chief
Plastic and Reconstructive Surgery/Hand Surgery
Residency Program Director
Associate Professor
West Virginia University School of Medicine
Prerequisite Education
The applicant to the Integrated Model must have received an MD or DO degree from an institution accredited by the Liaison Committee on Medical Education (LCME) or the American Osteopathic Association (AOA).  Graduates of schools of medicine from countries other than the United States or Canada must present evidence of final certification by the Education Commission for Foreign Medical Graduates (ECFMG).
Plastic Surgery Residency Program
All applicant material should be sent to:
McKenzie Given
Residency Program Manager, Plastic Surgery
64 Medical Center Drive
PO Box 9238, HSC-S
Morgantown, WV 26505-9238
(304)-293-7480