Adult Low Vision Program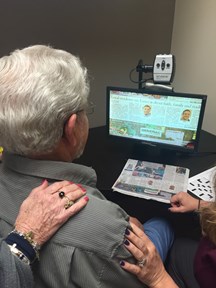 Low vision is a term used to describe visual impairment that cannot be corrected (20/70 or worse) despite the best glasses correction. Low vision can interfere with the ability to function in daily living, reading, driving, and activities you love to do.
It is possible for people with decreased vision to regain independence.  Low Vision Rehabilitation helps maximize remaining vision for individuals with permanent vision loss. When vision loss cannot be corrected by glasses, contacts, or surgery we can help you get back to the activities you enjoy using devices and technology. 
How can I schedule a low vision appointment?
To be scheduled for a low vision evaluation, patients must first be seen and referred by one of the physicians at the WVU Eye Institute.
Upcoming Dates
Below are upcoming dates available for patients to schedule an appointment with the Adult Low Vision Programs. All appointments will be at the WVU Eye Institute.
August 19, 2022
September 9, 2022
October 21, 2022
December 19, 2022