Appalachian Vision Outreach Program (AVOP)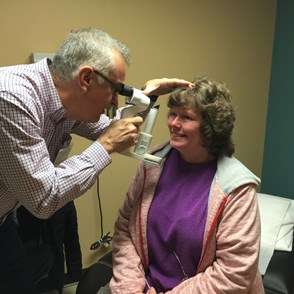 In 2011, the Claude Worthington Benedum Foundation awarded an initial startup grant for the Appalachian Vision Outreach Program (AVOP). The Claude Worthington Benedum Foundation has continued to support this program in coordination with the Alcon Foundation and private donations. 
AVOP provides care to all West Virginians that may not have access due to geographical or financial obstacles. A team from the West Virginia University Eye Institute travels to all areas of the state to provide screenings, full exams, glasses, identification of eye diseases, referrals for specialty care and surgery, if required. In 2017, this team evaluated more than 1,300 patients and identified eye diseases that left untreated could have led to blindness.   
AVOP has partnered with the Free Clinics of WV, community health clinics, Lion's of WV and local eye care providers to fulfill this mission. 
AVOP is actively seeking funding for this program to continue to reach the underserved in Appalachia.  Please contact Rebecca Coakley at coakleyr@wvumedicine.org for more information. 
Upcoming Clinics
Aug. 24-25, 2023 — Beckley Health Right, Beckley, WV
Aug. 31 - Sept. 1, 2023 — WV Health Right, Charleston, WV
Oct. 20, 2023 — Health Access, Clarksburg, WV
Oct. 26, 2023 — Wheeling Health Right, Wheeling, WV
Oct. 27, 2023 — Change Inc., Weirton, WV
Nov. 30 - Dec. 1, 2023 — Ebenezer Medical Outreach, Huntington, WV
Dec. 15, 2023 — Health Access, Clarksburg, WV