Thomas H. Covey, Jr., MD, Visiting Professor Lectureship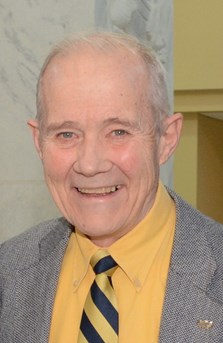 The Thomas H. Covey, Jr., M.D. Lectureship is established to honor and commemorate Dr. Covey's lifetime of service to the West Virginia University School of Medicine and the residents of West Virginia.
Dr. Thomas H. Covey, a native of Beckley, West Virginia, received his undergraduate degree from West Virginia University in 1957 and his MD from Harvard Medical School in 1961. Dr. Covey completed his surgical residency at the University of Michigan, returning to WVU to perform a research fellowship in the Department of Surgery in 1965. Dr. Covey joined the United States Army Medical Corps in 1967 and was honorably discharged in 1970 holding the rank of Major and title of Chief of the Surgical Section, 279th Station Hospital, Berlin, Germany.
Dr. Covey was active on the surgical faculty at Washington University School of Medicine until he was recruited back to WVU in 1984. At WVU Dr. Covey rose rapidly to the rank of Professor of Surgery, and also served as Interim Chair of the Department of Surgery, Residency Program Director, Chairman of the Promotion and Tenure Committee, Cancer Liaison Physician for Ruby Memorial Hospital and Interim Director of the Jon Michael Moore Trauma Center. He was the recipient of numerous teaching awards and research grants and continues to be active in teaching medical students.  
Dr. Covey retired from the Department of Surgery in July of 2004 and continues to make Morgantown his home with his wife Hope. Dr. and Mrs. Covey have two daughters, Joda Lynn and Emily, and also two grandchildren.
Past Visiting Professors
2020 Samuel A. Wells, Jr., MD
Professor Emeritus, Department of Surgery
Washington University School of Medicine
Adjunct Investigator
Genetics Branch National Cancer Institute
"Landmarks in Organ Transplantation: The Contributions of Thomas E. Starzl"
2019  Taylor Riall, MD, PhD, FACS
Professor, Department of Surgery
Chief, Division of General Surgery and Surgical Oncology
College of Medicine, Tucson University of Arizona
Leader, Clinical Discipline / Surgical Oncology-Arizona Cancer Center
2018  Linwah Yip, MD
University of Pittsburgh
Watch the video:  Precision Surgery for Indeterminate Thyroid Nodules and Cancer
2017  John I. Lew, MD, FACS
University of Miami Leonard M. Miller School of Medicine
Surgical Treatment of Primary Hyperparathyroidism:  Evolution from Form to Function
2016  Herbert Chen, MD
University of Alabama--Birmingham
Top Ten Strategies for Success in Academic Surgery
2015  E. Christopher Ellison, MD
Ohio State University College of Medicine
Mentoring Matters: Establishing a Mentoring Program
2014  John B. Hanks, MD
University of Virginia
A surgical approach to thyroid cancer
2011  Patrica L. Numann, MD
SUNY Upstate Medical University
Developing an academic career in surgical education
2010  Sally E. Carty, MD
University of Pittsburgh
Thyroidectomy: Indications, controversies: Use of molecular markers for differentiated thyroid cancer
2009  Goran B. Klintmalm, MD, PhD
Baylor University—Dallas
To transplant or not to transplant; When is enough, enough?
2008  Quan-Yang Duh, MD
University California, San Francisco
Surgical management of adrenal tumors: What's new?
2007  L. Michael Brunt, MD
Washington University
Current concepts in the diagnosis and management of adrenal tumors
2006  Barbara L. Smith MD, PhD
Harvard University    
Reducing the extent of surgery and radiation for breast cancer: How precise can we get?
2005  Charles J. Yeo, MD
Johns Hopkins Hospital
Surgery for pancreatic endocrine tumors
2004  Christopher R. McHenry, MD
MetroHealth Medical Center
Insulinoma and gastrinoma: Case presentations and review of diagnosis and management
2003  Robert Udelsman, MD
Yale University
Minimally invasive parathyroidectomy